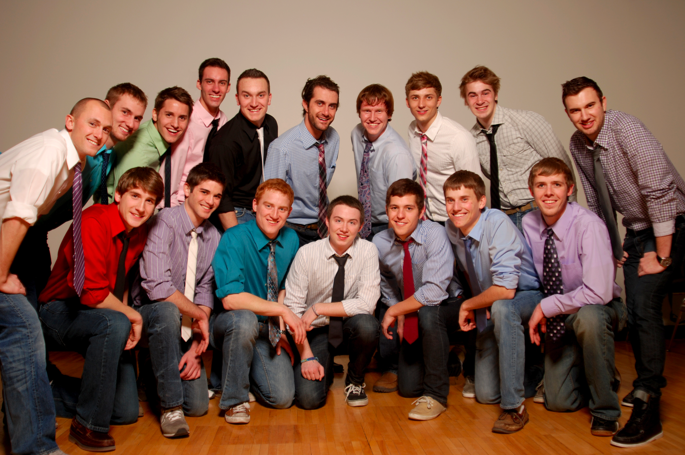 UNL a cappella group Bathtub Dogs perform June 29 on the GMC competition show "America Sings," and fans can vote on their favorite featured group video. The winner receives $10,000.

The Bathtub Dogs is a premier a cappella group at UNL. Founded by Scott Wilson and Aaron Hurlbut in 2002, the Dogs have been entertaining the UNL campus ever since. Find out more about the group at http://www.bathtubdogs.com/BTD/Home.html

GMC (Gospel Music Channel) is available on DirecTV (Channel 338), but not Time Warner Cable in Lincoln. Viewers can visit the GMC website at http://www.watchgmctv.com/sing to see the video and vote for the group after the episode airs, 8 and 9 p.m. (Central) on June 29. The show's season kicked off June 22, and the Bathtub Dogs will be featured on the second episode. Each week, the viewers are asked to go online and vote for their favorite group at http://www.watchgmctv.com/sing from that week's performances. Voting for each episode is open from Wednesday night at 8 p.m. CT to 11 p.m. on Sunday.

After episode 7, the votes will be tallied, with the top 15 vote-getters counted down, to the winner of the $10,000 grand prize. The singing groups with the most votes will be featured in the special season finale.

Recording artist Drew Lachey hosts the show. More than 100 singing groups from across North America are competing. Each week, Lachey shines the spotlight on new videos submitted by singing groups ranging from a capella, barbershop, doo wop, flash mobs, gospel and more.

The show's casting team goes behind the scenes to interview the singing groups and tell their
inspiring stories. Then, they hit the streets to get people from all walks of life to sing one classic
song that will air as a compilation in each episode.

More details at: http://go.unl.edu/avf