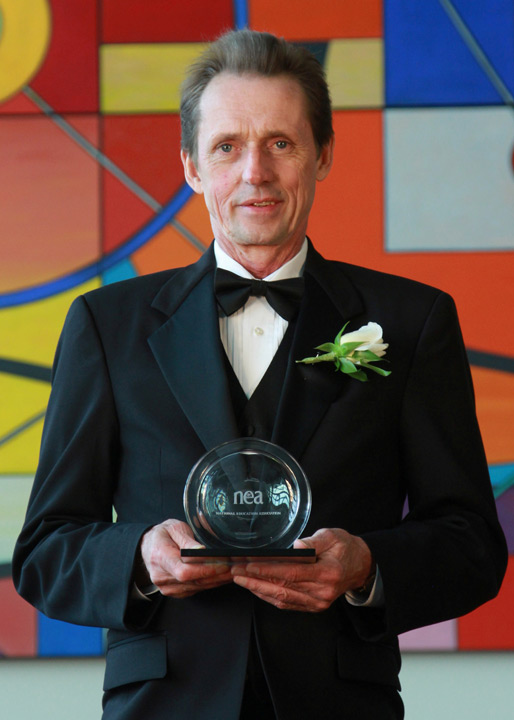 Joe Starita, a professor in the College of Journalism and Mass Communications, was honored by the National Education Association during its annual Human and Civil Rights Awards dinner in Chicago on July 1. Starita received the NEA's Leo Reano Memorial Award, acknowledging his work toward the education and achievement of equal opportunity for Native Americans.

"As a teacher and writer, Joe Starita shares the unsung achievements of Native Americans," said Dennis Van Roekel, NEA president. "His books are a must-read to better understand Native Americans, their heritage, and their contributions to American life and history."

Some of Starita's time as a reporter and bureau chief for the Miami Herald was spent exposing injustices and unethical practices toward Haitian immigrants living in South Florida.

After taking a teaching position at UNL, Starita's interests grew to include the study of history and culture of Native Americans. His 1995 book, "The Dull Knifes of Pine Ridge: A Lakota Odyssey," traces the lives of Chief Dull Knife and members of four succeeding generations. The book was nominated for the 1996 Pulitzer Prize for non-fiction.

His 2009 book, "I Am a Man—Chief Standing Bear's Journey for Justice," highlighted the court battle of the Ponca chief to gain equality for his people under the law.

Using proceeds from the book and fees for related speaking engagements, Starita created the Standing Bear Memorial Scholarship Fund for Nebraska Native American high school students. "I Am a Man" was the 2010 One Book One Lincoln selection and received the Nebraska book award as the state's nonfiction book of the year.

Starita began his Native Daughters project in 2009 as a way to help his students examine the roles that Native American women have traditionally played in Indian history, culture, art, medicine, and politics.

Leo Reano (1922-1971) was a teacher, artist, and interpreter who dedicated his life to securing educational opportunities for American Indian/Alaska Native children. A member of the Santo Domingo Indian Pueblo, Leo Reano served on the All Indian Pueblo Council and the NEA Council on Human Relations.

The National Education Association is the nation's largest professional organization, representing 3.2 million elementary and secondary teachers, higher education faculty, education support professionals, school administrators, retired educators and students preparing to become teachers.
More details at: http://go.unl.edu/qji