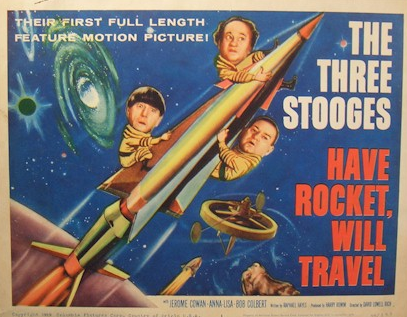 The Jensen's Cinema 16 Collection Movies on the Green series continues Aug. 4 with the Three Stooges' "Have Rocket, Will Travel." The annual summer movie series presents movies on Thursday evenings through Aug. 18.

Films in the series begin at dusk (approximately 9 p.m.) on the lawn north of Kimball Hall. Screenings are free and open to the public. Popcorn and soda are available for purchase.

In "Have Rocket, Will Travel," the Three Stooges accidentally lock themselves into a rocket blasting off for Venus. The trio encounters a variety of fantastic life forms, including a chatty unicorn. The film is Joe De Rita's debut as the third Stooge.

Remaining films in the series are: Aug. 11, "Bob and Carol and Ted and Alice;" and Aug. 18, "Cactus Flower."

The series is organized by the Mary Riepma Ross Media Arts Center and the University Program Council.
More details at: http://www.theross.org