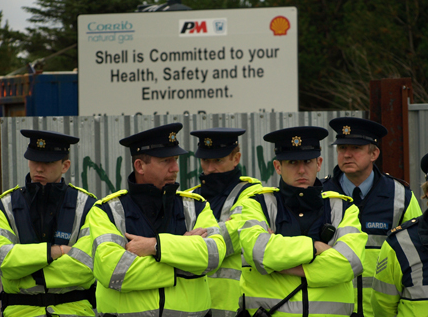 The films "The Pipe" and "The Names of Love" open today at the Mary Riepma Ross Media Arts Center. The Ross will host a movie talk about "The Pipe" at 4:30 p.m., Sept. 25.

"The Pipe" is Risteard Ó Domhnaill's compelling documentary that follows a campaign trying to prevent Shell from laying a natural gas pipeline in Ireland. When natural gas was discovered off the coast of Ireland, a consortium led by Shell developed plans to lay a pipeline into County Mayo and through the village of Rossport. Without having been consulted in the planning process, the small farming and fishing community objected, fearing the risk of environmental damage.

Ó Domhnaill's film followed the more than four-year campaign against Shell. The documentary includes disturbing scenes of Irish police being deployed to remove protestors and drag people to jail. The film also features implications that the Irish government, motivated by greed, backs Shell. Tension mounts when the protestors disagree on the best way to take Shell on, and individuals feel compelled to take increasingly more desperate action.

The 4:30 p.m., Sept. 25 movie talk follows the 3 p.m. screening of "The Pipe." The talk is free and open to the public. Admission to the film is at regular Ross prices.

Panelists featured in the talk are: Diane Amdor, whose family moved from Glenamoy, County Mayo, Ireland, to Omaha in 1916. She is a second-year law student who has spent time in Ireland, working with family, local community experts and activitists; John Bolenbaugh, an ex-Enbridge employee from Michigan who was fired because he refused to bury oil for the company; Ben Gotschall, outreach coordinator for Bold Nebraska Pipeline; Duane Hovorka, executive director of the Nebraska Wildlife Federation; Jane Kleeb, founder of Bold Nebraska; and Ken Winston, a public policy advocate for the Nebraska Sierra Club.

"The Names of Love" follows Baya Benmahmoud, a young, extroverted liberal who lives by the old hippie slogan, "Make love, not war," and seduces right-wing men to her left-wing political causes. She is incredibly good at the seduction, until she meets Arthur Martin, a Jewish middle-aged, middle-of-the-road scientist. Bound by common family tragedies, the two fall in love.

Both the "Names of Love" (rated R for sexual content, including graphic nudity and some language) and "The Pipe" (not rated) play through Sept. 29 at the Ross. For more information, click the link below or call 402- 472-5353.