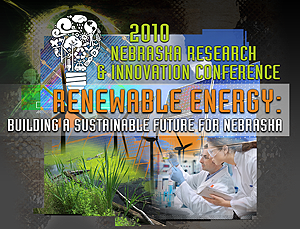 Students and faculty in science, technology, engineering and mathematics can submit entries for the poster presentation at Nebraska EPSCoR's sixth annual Research and Innovation Conference, Oct. 5 at the Cornhusker Marriott.

The conference theme is "Renewable Energy: Building a Sustainable Future for Nebraska." Poster presentations are needed in all STEM areas.

The conference is free and open to all faculty, staff, students and the public. Registration, due by Sept. 22, is required. For more information, go to http://nric.nebraska.edu.

The EPSCoR conference will bring business leaders, policy makers, researchers and students together to discuss renewable energy, to hear distinguished speakers, learn about the latest technologies, exchange ideas and explore potential collaborations.

The conference includes a morning plenary session on the national and local importance of renewable energy in Nebraska; five parallel tracks with presentations from researchers and industry professionals on advances in wind, solar, algal, biomass and smart grid technologies; and the poster session open to faculty, post-docs, and graduate and undergraduate students.

Guests include Gov. Dave Heineman, University of Nebraska President J.B. Milliken, and Ray Orbach, former Under Secretary of Science for the U.S. Department of Energy and current director of the Energy Institute at the University of Texas at Austin.

Nebraska EPSCoR is the Experimental Program to Stimulate Competitive Research, established by Congress to support science, mathematics and technology research, infrastructure, and education in states that receive disproportionately lower amounts of federal research funding. Since 1991, Nebraska has received more than $229 million from federal EPSCoR/IDeA programs.
More details at: http://go.unl.edu/2kr