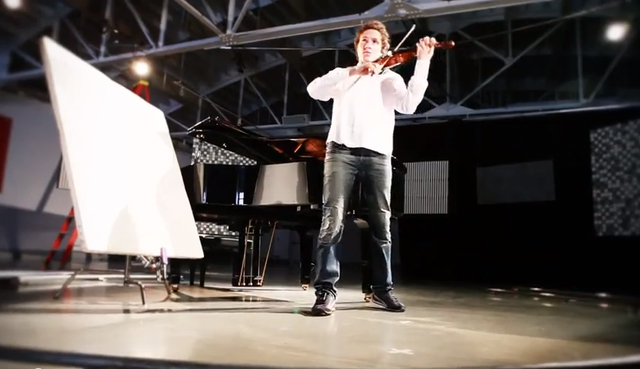 The School of Music and professor of piano Paul Barnes will welcome acclaimed violinist and "Portals" creator Tim Fain and members of his creative team to campus Oct. 4 for a special preview of "Portals." This preview will segue into the Midwest premiere at KANEKO, an open space for creativity in Omaha, Oct. 5-6.

KANEKO's Experimental Studio has supported the project and served as film co-producer.

The preview at UNL will take place from 5:30-7:30 p.m., Oct. 4 in Westbrook Music Building Rm. 119. The event is free and open to the public.

"Portals" is a multimedia performance collaboration conceived by Tim Fain as live music interacting with an original video and including a commissioned work by the award-winning composer Philip Glass. Conceived around the theme of human connection in the digital age, the finished work had its world premiere at Symphony Space in New York City Sept. 24.

The project has been featured in the New York Times, Vanity Fair, Vogue, Travel and Leisure and New York Magazine.

For the Oct. 6 performance in Omaha, Silicon Prairie News is teaming up with KANEKO to hold a "Live Social Media Meet Up and Party" at Nomad Lounge, while the performance takes place one building to the west in KANEKO, located at 1111 Jones St. in Omaha. They are seeking 25 people to blog their thoughts and reactions while watching the live performance of "Portals" on Livestream.

"Portals is about the way we communicate through social media," said Hal France, Executive Director of KANEKO. "We are inviting people who love social media to help us understand how this project could connect people to the arts."

To participate in the social media experiment, visit http://go.unl.edu/socialmediaportals.

Barnes, whose diverse musical career has included the world premiere of Philip Glass's Piano Concerto No. 2, will join Fain in performance on Oct. 4. The preview will also include video footage and an open discussion with filmmaker Kate Hackett; actor/narrator Fred Child, the host of NPR's Performance Today; pianist Nick Britell; writer Jacob Rubin; KANEKO Executive Director Hal France; and Fain.

Glass's "Partita" for unaccompanied violin forms the musical core of Portals along with works by contemporary American composers Aaron Jay Kernis, Nico Muhly, Kevin Puts, William Bolcom, Lev Zhurbin and Laura Karpman. The video combines the work of Los Angeles filmmaker Hackett and Benjamin Millepied whose distinguished career as a principal dancer and choreographer at the New York City Ballet includes the choreography for the Academy Award-winning film "Black Swan." Writer Rubin has incorporated the poetry of Leonard Cohen into an original script spoken on screen by Child.

For more information about the Oct. 4 preview and the performances on Oct. 5-6, visit http://www.thekaneko.org or call 402-341-3800.

To view the trailer for Portals, visit http://go.unl.edu/portalstrailer.
More details at: http://go.unl.edu/portals