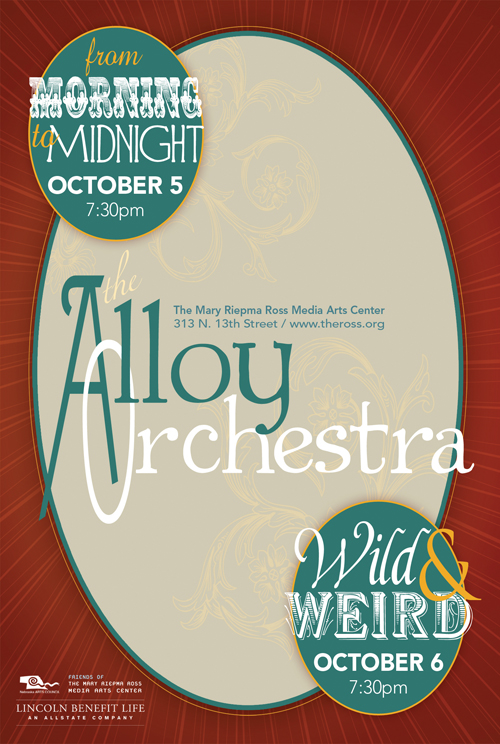 The works of the Alloy Orchestra, a three-man musical ensemble, will accompany two different programs of silent films at the Mary Riepma Ross Film Theater at 7:30 p.m., Oct 5-6. General admission tickets are $25, seniors aare $20 and students and Friends of The Ross are $15.

The Oct. 5 program will accompany a screening of "From Morning to Midnight," a German film based on a play by Georg Kaiser about the odyssey of a bank teller who tries to evade the monotony of his bourgeois life. The film is drenched in the black of an endless nightmare, pierced by flashes of abstract light rendered by white cutouts.

The Oct. 6 program "Wild and Weird" will accompany screenings of the Alloy Orchestra's favorite short films. For a detailed program list, visit the Ross website.

There will be a free pre-movie reception for ticket-holding members of Friends of The Ross and employees of Lincoln Benefit Life beginning at 5:30 p.m., Oct. 6. Call 402-472-9100 or visit the Ross website to RSVP.

Utilizing its famous "rack of junk", the Alloy Orchestra creates soulful music from an unusual combination of found percussion and state-of-the-art electronics that give the orchestra the ability to create any sound imaginable in a spectacular variety of styles.

Performing at film festivals and cultural centers in the U.S. and abroad (Telluride Film Festival, The Louvre, Lincoln Center, the Academy of Motion Picture Arts and Sciences, the National Gallery of Art and others), the Alloy Orchestra helps revive some great and unusual films of the silent era.
More details at: http://www.theross.org/