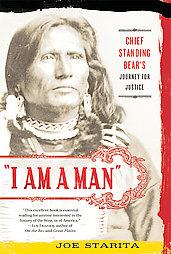 UNL College of Journalism and Mass Communications associate professor and Pulitzer Prize nominee Joe Starita will read and discuss his book "I Am A Man" at 7 p.m., Sept. 22 in the University Bookstore. A book signing will follow.

"I Am A Man" chronicles Chief Standing Bear's efforts to reclaim his lands and freedom. The book was recently named the 2010 One Book One Lincoln selection.

For the past seven years, Starita has taught many of the college's depth reporting classes, which are designed to give students the skills to probe deeply into a focused topic. Before joining the journalism faculty in 2003, Starita spent 13 years at the Miami Herald, where he served as the paper's New York bureau chief from 1983-1987.