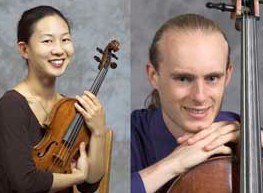 Chiara String Quartet members Hye Yung Julie Yoon and Gregory Beaver will perform J.S. Bach's "Complete Works for Unaccompanied Violin and Cello" in a four-concert series. The first concert is 7:30 p.m., Nov. 4 at St. Mark's on the Campus Episcopal Church, 13th and R streets. The series is free.

The opening performance will feature Sonata No. 1 in G minor and Partita No. 1 in B minor for Solo Violin and Suite No. 5 in C minor for Solo Cello.

The performances are free and open to the public. Other concert dates (all 7:30 p.m. at St. Mark's on the Campus) are Nov. 10, Feb. 28 and March 1.
More details at: http://go.unl.edu/y2n