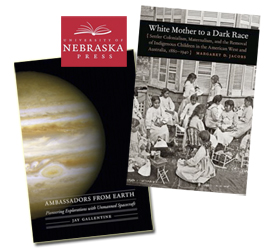 Two University of Nebraska Press titles have recently been named winners of three national awards.

Written by UNL's Margaret Jacobs, "White Mother to a Dark Race: Settler Colonialism, Maternalism, and the Removal of Indigenous Children in the American West and Australia, 1880-1940" is the winner of the Robert G. Athearn Prize and the Armitage-Jameson Award.

The biennial Athearn award is given to the best book on the 20th century West. The Western History Association sponsors the award.

The Armitage-Jameson award, sponsored by the Coalition for Western Women's History, is new this year and honors the most significant monograph or edited volume published in western women's and gender history in the preceding calendar year.

Jacobs, associate professor of history, will receive the awards - including two $1,000 prizes - at the Western History Association's annual conference in October.

"Ambassadors from Earth: Pioneering Explorations with Unmanned Spacecraft," by Jay Gallentine earned the annual Eugene M. Emme Astronautical Literature Award. The award, sponsored by the American Astronautical Society, is named for NASA's first historian. The honor recognizes an outstanding book that advances public understanding of astronautics through originality, scholarship and readability.

Gallentine will receive the award at the American Astronautical Society's annual conference in November.

The University of Nebraska Press published both books in 2009. For more information, go to http://www.nebraskapress.unl.edu.