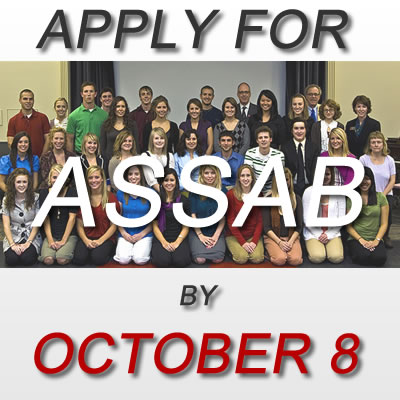 The Arts and Sciences Student Advisory Board is a student representative organization that serves as a liaison between the college deans, faculty and staff.

The role of this board is to address student concerns while facilitating communication between both groups.

ASSAB is seeking hard-working, responsible, and motivated individuals who are interested in the well-being of the College of Arts and Sciences and have unique ideas for the improvement and advancement of the college.

To be eligible for consideration, an applicant must be a full-time undergraduate student in the College of Arts and Sciences, in good academic standing and disciplinary standing, and plan to continue at UNL in the College of Arts and Sciences through at least the 2010-2011 academic year.

Meetings are on alternating Wednesdays at 5:30 p.m. in the Nebraska Union.

Applications are due on Oct. 8 by 4 p.m. in the Arts and Sciences Advising Center, Room 107 in Oldfather Hall.

More details at: http://go.unl.edu/pz9