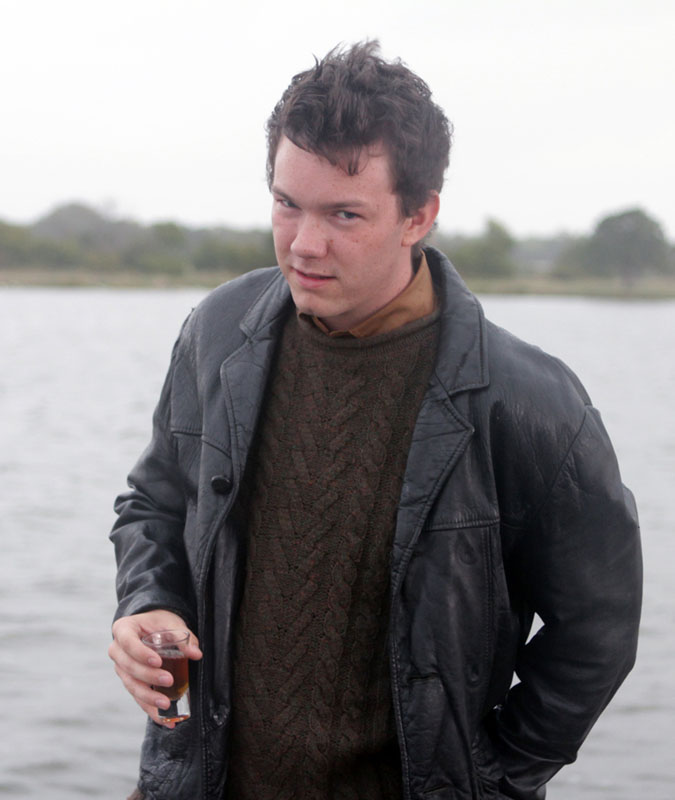 University Theatre, the academic main stage producing wing of the Johnny Carson School of Theatre and Film, opens its 2010-2011 season with DYLAN by Sidney Michaels.

Directed by Aaron Sawyer, an MFA candidate in Directing for Stage and Screen as partial fulfillment of his degree, DYLAN is on the Studio Theatre stage Oct. 12-15 at 7:30 p.m.

The Studio Theatre is on the first floor of the Temple Building at 12th & R Streets. Tickets are $16, $14, $10 and are available at the Lied Center Ticket Office, 301 N. 12th St., or by calling 402-472-4747 or 800-432-3231, Monday through Friday 11 a.m.-5:30 p.m. Tickets are also available on line at carsonschool.unl.edu

DYLAN follows acclaimed Welsh poet and public speaker Dylan Thomas to the colleges, bars and bedrooms of his last American tour in the 1950s, and finally to the ship that carried his body home.

The play explores not only his tempestuous relationship with his work, but also that of his wife and family, all colored by his abundant use of alcohol. During his lifetime, Thomas wrote many great poems, most famously "Do not go gentle into that good night." He also wrote the "play for voices" Under Milk Wood and the collection of stories, "Portrait of the Artist as a Young Dog."

Thomas' wife Caitlin Macnamara Thomas, an author in her own right, was the female counterpart in personality to Dylan. Their pairing was stormy, fueled by alcohol and infidelity.

Heading the all undergraduate cast as Dylan Thomas is Gage Wallace and Jessie Tidball as Caitlin. Other cast members are Emily Martinez, Sam Hartley, Peter Swanke, Liza Thalken, Zac Franzen, Gary Henderson, Catherine Dvorak, Patrick Zatloukal, Stephanie Bourgeois, and Jake Denney. The production is designed by Jacob Boyett (scenic) Matthew Baye (lighting), Max Holm (projections), all undergraduates, and faculty members Janice Stauffer (costumes) and Jeff O'Brien (sound). Stage manager is undergraduate Sara Beaman.




More details at: http://go.unl.edu/x9o