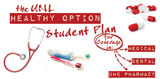 International students and graduate assistants may waive the UNL Healthy Option Student Plan by Jan. 27. The waiver can be found on the University Health Center website.

International Students: The UNL Healthy Option Student Plan is mandatory for international students unless proof of comparable insurance coverage is presented, and a waiver is filed by the 14th day of classes. In the absence of a waiver, the insurance premium will be automatically placed on your Student Account Statement.

Graduate Assistants: Student insurance is provided as part of the University Graduate Assistant employment package. Non-participation in this program will require a completed waiver within 14 days of employment.
More details at: http://go.unl.edu/x2b