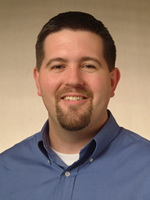 The Nebraska Center for Research on Children, Youth, Families and Schools will continue its 2011-2012 Research Methodology Series with a presentation from James Bovaird, director of the CYFS Statistics and Research Methodology Unit.

Bovaird will present "Not All Students Need to Be Assessed: Research Designs Where Data Are Intentionally Missing" Friday, Jan. 27 from 11:30 a.m. to 1 p.m. in 265 Mabel Lee Hall. The presentation is free and requires no registration.

Bovaird will outline design decisions that may enable researchers to test hypotheses using smaller assessment batteries or sample sizes than traditionally recommended. Using examples, he will show how to handle samples in which not every study participant is assessed on all instruments – or when some expected participants fail to actually take part in a study. Bovaird will cite research literature on planned missing data designs and sequentially designed experiments to support these empirical examples.

For information on future Research Methodology Series presentations, go to http://go.unl.edu/uqk.