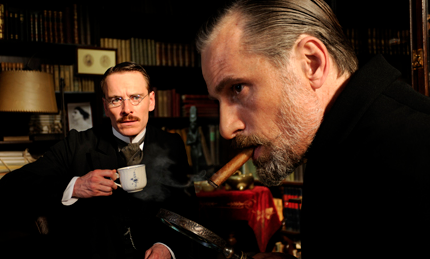 The Mary Riepma Ross Media Arts Center hosts a movie talk related to the films "Shame" and "A Dangerous Method," at 2:50 p.m., Jan. 29 in the Van Brunt Visitors Center presentation room. The talk is free and open to the public.

The talk will include a discussion on rising star Michael Fassbender (who stars in both films), the films of David Cronenberg (director of "A Dangerous Method"), and the MPAA rating system.

The discussion will be moderated by Danny Ladely, director of the Ross, and will include L. Kent Wolgamott, entertainment writer for the Lincoln Journal Star.

The movie talk follows the 1:15 p.m. screening of "A Dangerous Method." Admission to the move is at regular Ross rates.

"A Dangerous Method" shows through Feb. 9. "Shame" shows through Feb. 2.

On the eve of World War I, Zurich and Vienna are the setting for the dark tale of sexual and intellectual discovery presented in "A Dangerous Method." The film examines the turbulent relationships between fledgling psychiatrist Carl Jung, his mentor Sigmund Freud and Sabina Spielrein — the troubled but beautiful young woman who comes between them.

Into the mix comes Otto Gross, a debauched patient who is determined to push the boundaries. In this exploration of sensuality, ambition and deceit set the scene for the pivotal moment when Jung, Freud and Sabina come together and split apart, forever changing the face of modern thought.

The film stars Fassbender, Keira Knightley, and Viggo Mortensen.

"Shame," rated NC-17, is a plunge into the mania of addiction. Brandon (played by Fassbender) is a New Yorker who shuns intimacy with women, but feeds his desires with a compulsive addiction to sex. When his wayward younger sister (Carey Mulligan) moves into his apartment, memories of their shared painful past send Brandon's life spinning out of control.

Fassbender's performance received the Best Actor honor from the British Independent Film Awards.

For more information, go to http://www.theross.org or call 402-472-5353.
More details at: http://www.theross.org