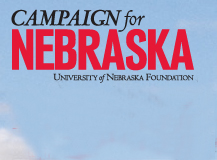 The University of Nebraska Foundation recorded its second best year ever, receiving $136.9 million in gifts. The total for the fiscal year that ended June 30 was announced during the annual meeting of trustees on Oct. 15.

During the same period, the NU Foundation transferred $107.3 million to the University of Nebraska - also a second-best year.

Funds transferred to the university benefit areas as designated by the donors. More than $18 million was provided for student support; $4.9 million for faculty support; $6.1 million for research; $30.3 million for academic programs; $1 million for museums, libraries and fine arts programs; $45.8 million for campus and capital improvements; and $1 million to support each of the four alumni associations.

The foundation's assets on June 30 totaled $1.6 billion. The endowment, comprising the largest portion of the assets, realized a return of 13.6 percent for the year.

For more information about the University of Nebraska Foundation's annual report and audited financial statements, go to nufoundation.org/annualreports.
More details at: http://go.unl.edu/ncp