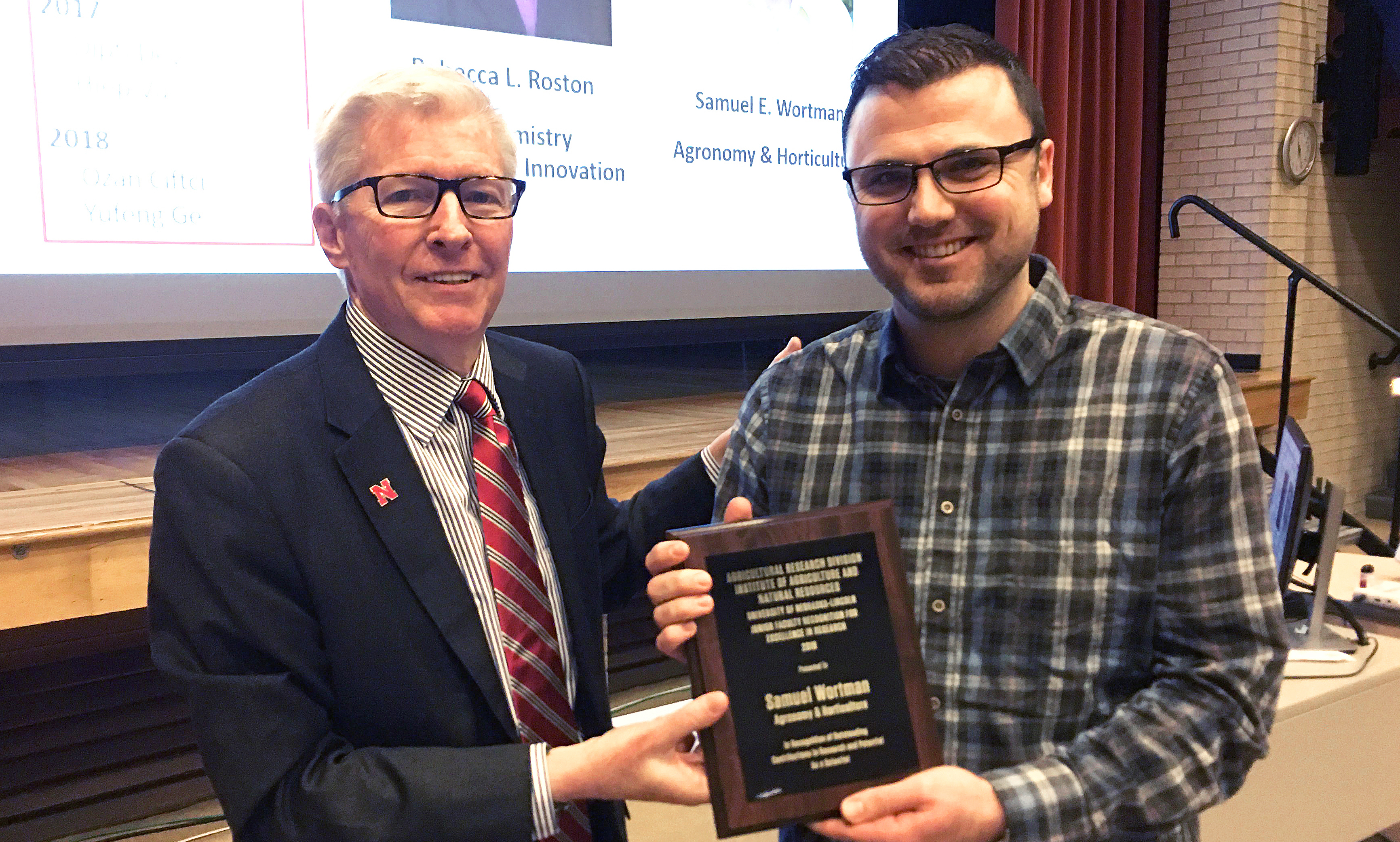 Sam Wortman, assistant professor of agronomy and horticulture, was selected as a recipient of the 2019 Junior Faculty Excellence in Research Award from the Agricultural Research Division of the Institute of Agriculture and Natural Resources at the University of Nebraska–Lincoln. The awards recognition took place at the IANR's All Hands Meeting in the Hardin Hall auditorium Jan. 28.

This ARD award is given annually to tenure-track assistant professors with an ARD appointment who have a maximum of five years of professional service at the university and is based on publication record, evidence of external funding activity and peer recognition.

Wortman's research program aims to leverage Nebraska's wealth of natural resources to develop biobased inputs and management tactics for specialty crop systems. Currently, his projects include research on biobased fabric mulches for leafy greens, carrots and strawberries; off-target herbicide injury in lettuce and pumpkin; grafted tomatoes for improved input use efficiency; and on-farm vegetable variety trials.

Wortman completed a doctoral degree in agronomy at Nebraska in 2012 while studying cover crops and crop rotation in organic systems. He began his faculty career at the University of Illinois where he focused on research and teaching in urban agriculture. Wortman later returned to Nebraska as an assistant professor.

He has published 37 refereed papers, including 16 since joining IANR in 2016. His research has been funded through many multi-institution, team-based projects and external awards totaling more than $13 million, with nearly $2 million directly supporting his program. He currently serves as an associate editor for Renewable Agriculture and Food Systems and Urban Agriculture and Regional Food Systems journals.

Wortman also teaches three courses in the College of Agricultural Sciences and Natural Resources, reaching nearly 200 undergraduate students each year. In 2019, he was honored to receive the Junior Faculty Holling Family Award for Teaching Excellence.
More details at: https://go.unl.edu/tnfg