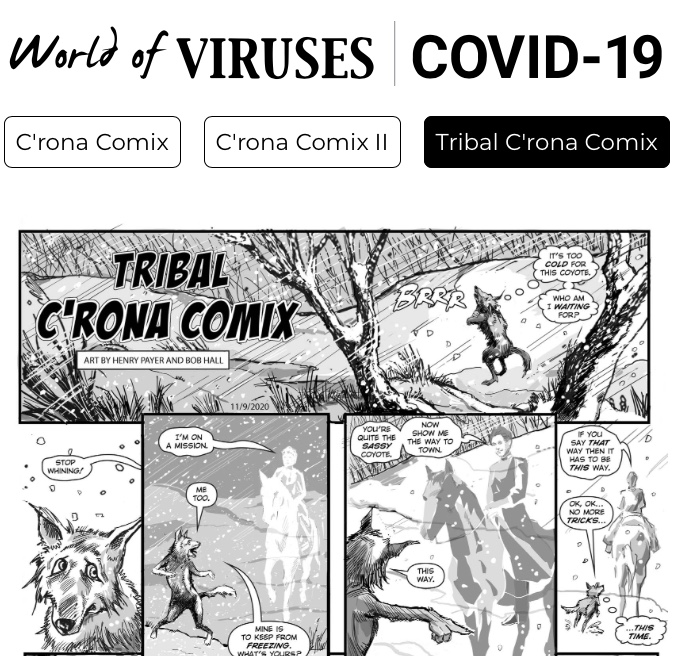 Check out the news from our alumni:

• Bob Hall (B.F.A. 1967; M.A. 1969; M.F.A. 2017), created the World of Viruses weekly comic book page for kids on the coronavirus with Professor Judy Diamond. They received a National Science Foundation grant for the project. It consists of three parts: the first dealing with the nature of the virus, the second on the virus and bats, and the third about Native Americans and COVID-19. Hall co-authored the stories with Diamond, Professor Elizabeth Van Wormer and Judi M. Galashkibos, Director of the Nebraska Commission on Indian Affairs. View the work at https://worldofviruses.unl.edu.

• Qwist Joseph (M.F.A. 2016) and Iren Tete (M.F.A. 2019) are among the 45 finalists for the Officine Saffri Award for ceramic artists. They were selected from among 600 entries by an international panel of experts. Their work will be exhibited in Milan, Italy, next September.

• Scott Rieker (M.M. 2015), Department of Music at Frostburg State University, was principal author of "COVID and the Choral Director: Preparedness, Perceptions, Attitudes, and a Way Forward," which was published in The Choral Journal's February 2021 issue. This quantitative study details the impact of COVID-19 on choral music educators, particularly demonstrating that choral teachers felt unprepared for pandemic-impacted teaching, but that they rose to the occasion by independently seeking out new training and skills in great numbers. The article recommends that K-12 school districts discover ways to validate non-traditional forms of professional development, that they refrain from expecting unpaid, self-directed training from teachers (e.g. "Learn how to make a 'virtual choir' amidst your other duties."), and provide subject-specific professional development that aligns with specific teachers' needs. Rieker also had his composition "'Famous' Last Words" (for SATB choir, reader and piano) selected as one of the three winners for the Missoula Community Chorus' "The Way Through, Composition Contest in the time of Covid-19" composition contest. Only music written during the Covid-19 pandemic was eligible for consideration. His humorous work is a send-up of elegies and eulogies that memorialize the great and good. Instead of incorporating noble and edifying texts, he has set rather ignominious last words (for example, Civil War General John Sedwick's memorable "The couldn't hit an elephant at this distance.") in an attempt to inject some levity into an otherwise grave situation. The award comes with a cash prize and a premiere of the winning works by the Missoula Community Chorus in the fall of 2021.

• Michael Strand (M.F.A. 1999) is part of the "Crafting America" exhibition at Crystal Bridges Museum in Arkansas (https://go.unl.edu/vt03). The exhibition celebrates the skill and individuality of craft within the broad context of American art. Featuring more than 100 works in ceramics, fiber, wood, metal, glass, and more unexpected materials, Crafting America presents a diverse and inclusive story of American craft from the 1940s to today. Strand has also taken a new position as Director of the new School of Design, Architecture and Art at North Dakota State University.

To submit your alumni news, please send an e-mail to unlarts@unl.edu. Be sure to include your year and degree(s).