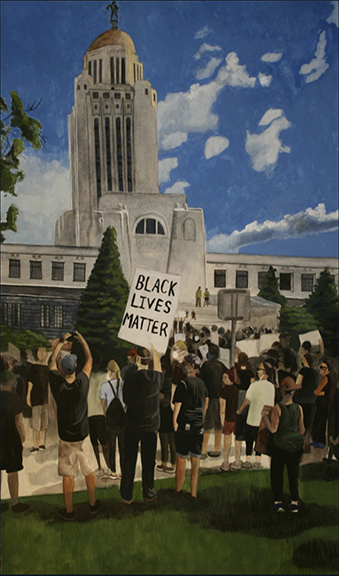 The University of Nebraska–Lincoln's Eisentrager-Howard Gallery in Richards Hall will host the 34th Annual Juried Undergraduate Art Exhibition. The exhibition opened Feb. 12 and will continue through March 5.

This year's show, titled "Caution to the Wind," is comprised of 34 works of art and design recently created by 28 undergraduate art students from the School of Art, Art History & Design.

A virtual, closing reception via Zoom will occur on Friday, March 5 at 5 p.m. CST. Awards will be announced around 5:30p.m. The reception can be accessed at https://unl.zoom.us/j/98866516430 (Meeting ID: 988 6651 6430).

Awards that will be given include: Dean's Purchase Award, Director's Purchase Award, Faulkner Freshman Award, Faulkner Sophomore Award, Faulkner Memorial Awards and Entry Fee Awards.

The following students are participating in the exhibition. They are grouped according to their enrollment status upon applying to the show:


Seniors (*recent graduates)
Jessica Badousek*
Samantha Bendix
Daniel Hinz
Tyler Hornby
Alyssa Kobza
Vanessa Lekule
Emma Lyness
Sa Nguyen*
Grace Orwen
Patrick Pantoja*
Jessica Reiter*
Bird Rippe
Sabrina Sommer

Juniors
Tyra Carstens
Daniela Chavez
Gannen Ingalls
Alexia Jacobmeier
Emily Mulvaney
Nancy Nguyen
Hannah Petri
Reilly Woodward
Henry Zander

Sophmores
Brenna Houdersheldt
Enrique Martinez
Makayla Reavis

Freshmen
Adriana Catalan
Allison Hitchcock
Pablo Souto


This year's jurors were Assistant Professors of Emerging Media Arts Ash Smith and Jesse Fleming. Smith (https://go.unl.edu/a4dq) is a speculative artist, designer and researcher who creates stories for film, stage and immersive play. Fleming (https://go.unl.edu/6ngm) is the founding director of the Perceptual Technologies Lab at the Johnny Carson Center for Emerging Media Arts. As a multi-sensory and interdisciplinary artist, researcher and educator, he focuses on tools, experiences and artworks as vehicles for self-awareness, discovery and interconnection.

The Eisentrager-Howard Gallery is located on the first floor of Richards Hall on the University's city campus at Stadium Drive and T streets. Gallery hours are Monday-Friday, 12:30-4:30 p.m, or by appointment. Admission to the gallery is free and open to the public.

Additionally, all students, faculty, staff and campus visitors are required to comply with current CDC safety guidelines and protocols for building access and event guidelines in response to COVID-19. All students, faculty, staff and campus visitors can find more information on these matters at https://go.unl.edu/h7pj before making plans to visit the exhibition. Details, exclusions and updates can be found via the City of Lincoln (https://go.unl.edu/cp9m), and the University of Nebraska-Lincoln's websites (https://go.unl.edu/7aqw).

For more information on the exhibition or to set up an appointment, please email eisentragerhowardgallery@unl.edu or call the School of Art, Art History & Design at (402) 472-5522.

Follow the gallery on social media via Instagram @eisentragerhoward and Facebook @EHArt Gallery to be informed of any emergency gallery closings, updates, etc.