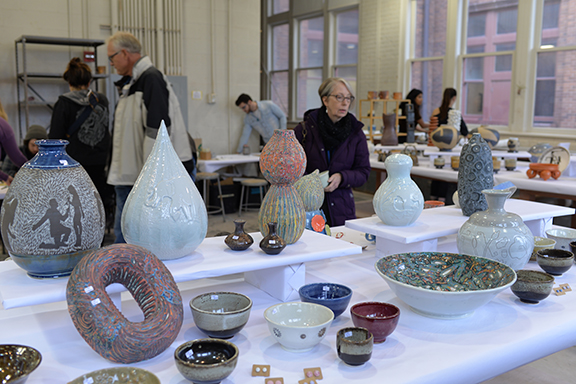 The University of Nebraska–Lincoln School of Art, Art History & Design is hosting fall art sales by the UNL Clay Club, UNL Photo Club and UNL Painting Club on Dec. 10-11 in Richards Hall.

"After having a year off, I'm so happy that we're bringing back the artwork sale in December," said graduate photo student Austin Cullen. "For me, the sale is fantastic for the participating students because it gives them a chance to have their work seen and potentially purchased. It's also a great chance for other students, faculty and members of the community to see what the School of Art, Art History & Design is all about. Participating students will also be working the sale, so there's a chance that they'll be able to talk with others about their work. Overall, I think this year's sale is stacking up to be amazing."

Hours for the Clay Club's sale are Friday, Dec. 10 from 9 a.m. to 6 p.m. and Saturday, Dec. 11 from 9 a.m. to 5 p.m. Their sale will take place in Richards Hall Rm. 118. Hours for the Painting and Photo Sale are Friday, Dec. 10 from 9 a.m. to 5 p.m. and Saturday, Dec. 11 from 9 a.m. to 5 p.m. The Painting and Photo Sale will take place in Richards Hall Rm. 112. Cash, checks and credit cards will be accepted at both sales.

The Clay Club Sale will include ceramic pottery and sculpture created by UNL graduate and undergraduate students available for purchase.

In addition to the sale, there will be a raffle of work donated by students, faculty and select local artists. In conjunction with this year's sale, UNL Clay Club will be collecting canned (and other non-perishable) food for donation to Husker Pantry. Every two non-perishable food items donated is worth one raffle ticket (maximum of five tickets per day, please). Any additional donations are welcome. Visit https://pantry.unl.edu for information on the most needed food items.

"With a wide range of handmade works at various prince points, this sale is a great place to find fabulous handmade gifts for the holiday, while supporting UNL Clay Club," said graduate ceramics student Andy Bissonnette.

Proceeds from the sale go to the artists, as well as funding the Clay Club. This student-run organization brings in visiting artists to the community and sends students to national clay conferences.

The Photo and Painting Clubs will be holding a joint artwork sale. Undergraduate and graduate students will be selling their works in an effort to raise money for both clubs. There will be a wide variety of art mediums and styles for sale.

The Photo Club portion of the sale will consist of unframed and framed photographic prints. The Painting Club will be showing a variety of works done on canvas, wood and paper.

They will also have a raffle. For the cost of $1, a ticket can be purchased for a chance to win one of the many donated artworks.

"The UNL Painting Club is excited to work in collaboration with the UNL Photo Club for our end-of-semester student sale," said undergraduate painting student Luci Packard. "The sale is student-run and will offer a variety of original paintings and prints by UNL art students. The sale gives students the opportunity to showcase their work and gain valuable experience in selling and forming long-lasting connections to the vibrant Lincoln art community. Please come and support the student sale."

Richards Hall is located at Stadium Drive and T streets. Public parking is available at the Stadium Drive parking garage. For more information, call the School of Art, Art History & Design at (402) 472-5522 or e-mail schoolaahd@unl.edu.

More details at: http://arts.unl.edu