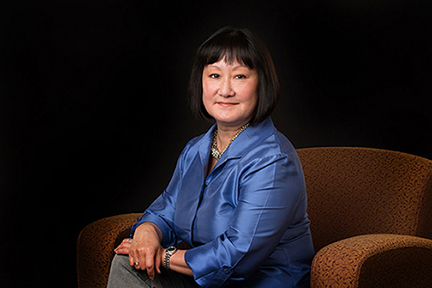 Christin J. Mamiya, associate dean of the Hixson-Lied College of Fine and Performing Arts, has been named interim director of the Sheldon Museum of Art. She will assume her new duties Feb. 2.

Mamiya replaces Jorge Daniel Veneciano, who resigned in December to become director of El Museo del Barrio in New York. Veneciano, who has directed Sheldon since 2008, will end his tenure at UNL on Feb. 1.

Mamiya is a professor of art history at UNL and has been a Hixson-Lied associate dean since 2009. She also spent one year as the college's interim dean. She will continue as associate dean during her time as Sheldon's interim director.

The Office of the Chancellor will coordinate a national search for a permanent Sheldon director.

"I am honored to have this opportunity to serve the museum and the university," Mamiya said. "The Sheldon is such a magnificent asset to the community and the state of Nebraska, and I'm looking forward to working with its excellent staff and the Sheldon Art Association to help prepare the museum for a new director."

Mamiya received her B.A. from Yale University and her M.A. and Ph.D. degrees from UCLA. She has been a faculty member in the Department of Art and Art History since 1987.

She is an authoritative voice on contemporary art. Her book, Pop Art and Consumer Culture: American Supermarket, led to invitations nationally and internationally to write and speak about artists of the late 20th century. Mamiya also co-authored Gardner's Art Through the Ages, an award-winning textbook that has introduced generations of students to art history and which is currently the most widely used textbook.

In addition, Mamiya has published numerous articles in scholarly journals on a variety of subjects, including contemporary American art, popular culture, 19th century French art and Oceanic art.

In her time at UNL, Mamiya has been responsible for teaching the entire range of modern art courses. She received a College Distinguished Teaching Award in 1992, the Annis Chaikin Sorensen Award for Distinguished Teaching in the Humanities in 2001 and was selected for membership in the Academy of Distinguished Teaching at UNL in 2005.