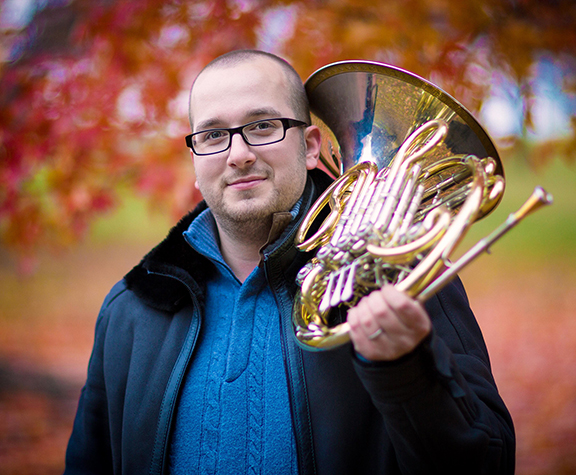 Steven Cohen, a first-year Master of Music student in the Glenn Korff School of Music from Great Neck, N.Y., will travel to Chicago in March to compete as a National Finalist in the Music Teachers National Association (MTNA) Young Artists Brass Competition.

Cohen earned this opportunity after winning the West Central Division of the MTNA Young Artists Brass Competition in January at Drake University and the state round last October at Nebraska Wesleyan. Cohen has been studying horn for 14 years and is currently a student of Professor of Horn Alan Mattingly at the University of Nebraska–Lincoln.

"Steven continues to make his mark on the horn world, and advancing to the national finals of the MTNA competition is yet another milestone of his career," Mattingly said. "Between this competition and presenting at the 45th International Horn Symposium back in July, Steven has had a banner year. He will no doubt continue to be a leader and mentor in the horn community."

The MTNA Young Artists Brass Competition will take place on March 24 during the MTNA National Conference. The national winner of this competition receives a cash prize and will perform in a winners concert during the conference. The three-tiered MTNA competitions begin at the state level. Winners of each State Competition advance to the division competition. Division winners then proceed to the National Competition Finals.

"It's a great honor for me to be selected as a national finalist for MTNA's Young Artists Brass Competition," Cohen said. "I was flattered by the judges' decision as the regional round of competition featured a great array of talent from all over the Midwest. Having the opportunity to perform at the national finals means a great deal to me, and I look forward to sharing my recital program in Chicago. The Glenn Korff School of Music has provided me so many incredible opportunities that I cannot be more thrilled to represent it on a national stage."

Cohen's program for the national finals will include Eugène Bozza's "En Forêt," Joseph Haydn's Horn Concerto No. 1 in D major, Paul Hindemith's Sonata in F for Horn and Piano (1939) and Camille Saint-Saëns' Morceau du Concert.

Cohen has has been heard across the United States as an orchestral and Broadway horn player. He most recently served as Principal Horn with The New 25th Anniversary Production of Les Misérables prior to attending UNL. As a student in The Glenn Korff School of Music, Cohen serves as principal horn with the UNL Wind Ensemble. Additionally, he has served as principal horn with The Manhattan Symphonie, MZJ Ensemble, New York Youth Symphony, UNL Symphony Orchestra, The Mannes Orchestra, Transylvania Symphony Orchestra and Symphonic Band, and the French Woods Festival Orchestra.

Cohen has performed with Lincoln's Symphony Orchestra, the Lincoln Municipal Band, Nebraska Chamber Symphony Orchestra, Brevard Music Center Orchestra, and with a number of Broadway shows. He continues to work with various national Broadway productions at the Orpheum Theater in Omaha playing for such shows as The Lion King and Wicked. During the holiday season, Cohen plays with Mannheim Steamroller. Before his hire as principal horn with Les Misérables in 2010, he was a student at Mannes College The School for Music in New York, N.Y.

In October 2012, Cohen was a winner of The Glenn Korff School of Music's Concerto Competition. He performed Richard Strauss' Horn Concerto No. 1 with the UNL Symphony Orchestra in March 2013. He has also appeared as soloist with the Mannes Conductors Orchestra in Mozart's Horn Concerto No. 4 in April 2010.

As a lecturer, Cohen has presented on Broadway pit performance at the international level. In August 2013 he presented "From ON stage to UNDER it: Transforming from an Orchestral to Pit Hornist and Back," a lecture that explored making the transition from orchestral performance to Broadway pit performance at the 45th International Horn Symposium.

Cohen has worked with such American conductors as Keith Lockhart, JoAnn Falletta, David Effron and renowned Broadway music director Robert Billig. He has served as faculty at the French Woods Festival and as a section coach for many youth orchestras in the New York area. Cohen has been a participant at the Brevard Music Center in the Young Artist and College divisions. His teachers include Mattingly, Phil Myers, R. Allen Spanjer, Richard Deane and Jean Martin-Williams. He plays on Engelbert Schmid horns.

Music Teachers National Association (http://www.mtna.org) is a nonprofit organization comprised of 22,000 independent and collegiate music teachers committed to advancing the value of music study and music making to society and to supporting the professionalism of music teachers. Founded in 1876, MTNA is the oldest professional music association in the United States.