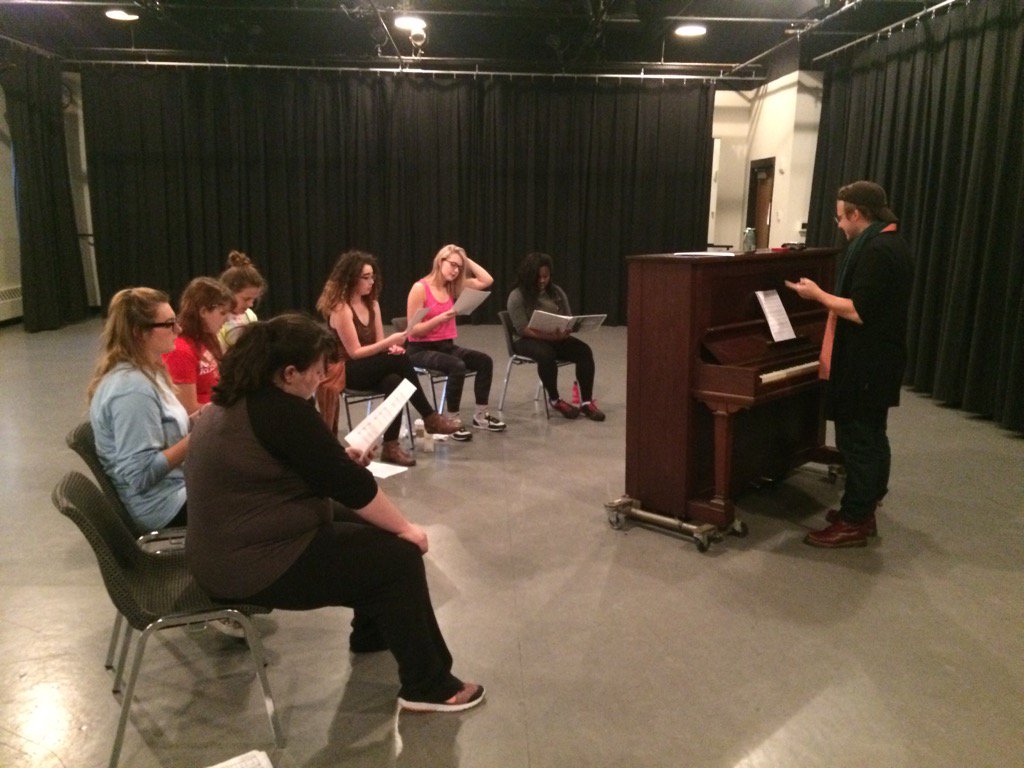 University of Nebraska–Lincoln Theatre will present an innovative reimagining of William Shakespeare's "Hamlet," a powerful tragedy of madness and revenge, to mark the 400th anniversary of Shakespeare's death in 1616. This version will take place in 1959 at a Catholic School and features a nearly all-female cast, except for Polonius and Claudius.

"What's interesting about it is you forget that you're watching any gender, and you're simply watching people go through these things," he said. "The language in this play is so universal that it works."

Broulik wanted a play that had roles for young people.

"One of the reasons for 'Hamlet' is the preponderance of roles for young people," said Assistant Professor of Practice Wesley Broulik, who adapted it and is directing the production. "It's a play about different generations and the ascension of one generation to another, and it's an accessible play for audiences."

Adapting it fit with his philosophy of theatre.

"Classical plays tend to be fairly male-heavy, in terms of roles and gender identification," he said. "So I have a personal philosophy of theatre that I need to create more opportunities for women than for men. Part of the reason for the framing device is really to create opportunities for young women and to give them some classical roles, some big, meaty, fun things to tackle."

The adaptation also allows the audience to hear and see the play in a new light.

"It's 'Hamlet.' We know the story, so let's frame it in a way that let's us experience the story differently," Broulik said. "When you have a young woman saying, 'Frailty thy name is a woman,' that line has a very different value system and meaning than it does otherwise."

Emily Blythe, a freshman performance major from Austin, Texas, plays the title role of Hamlet.

"Even though as a female I will be playing Hamlet, we've kept to the original pronouns in the text," she said. "Personally, I am trying to play Hamlet as the character is written. By that I mean not allowing my choices to be governed by a specific gender. After all, it is 2016."

She said Hamlet is a thinker.

"He is always considering or debating a question and how to move forward," she said. "A lot of the times that's why I believe he is interpreted to be depressed or troubled. There's a sense of prowess about him that I think gives him this lightness of foot and sly demeanor. I really want to express this in my work because he is more than just a mourning son. He is quick; he is rash; and he is ambitious."

Julia Utter, a senior theatre performance major from Santa Rosa, California, plays Laertes.

"I'm the older sibling of Ophelia, and the child of Polonius," she said. "My character is passionate and explosive. Laertes has a very strong point of view about everything and doesn't stifle any impulses. I am looking forward to the characters' relationships in this show. We have all done an amazing job of crafting our characters' stories and why we are all here, interacting with each other."

Lindsey Parodi, a junior theatre performance major from Omaha, plays Rosincrance and Guildensterne, but in a unique way.

"I will be playing Rosincrance and my sock puppet is Guildenstern," she said. "They are very wishy-washy. They are summoned back to Denmark by the King and Queen to keep an eye on Hamlet. They've been friends with Hamlet since childhood, but I like to think of them as the weird kids that Gertrude made Hamlet hang out with. They really just want to survive this situation and will please whomever they think can help them obtain survival."

Amy Almond, a senior dual major in performance and directing/management from Cave Creek, Arizona, plays Barnardo and Osricke.

"Barnardo is described as 'the sidekick.' I'm still learning about her as we stage the play, but I do know that she is really fun. She's the character that just wants to do her job well, but somehow keeps getting into trouble," Almond said. "Osricke, on the other hand, is the sycophant to the King. She will do whatever it takes to climb the social ladder, even if that means groveling in front of Hamlet. She's incredibly infatuated with royalty."

Almond is looking forward to the production.

"I spent my summer working with a Shakespeare company [The Saratoga Shakespeare Company] as an assistant director so I love that I am getting to take what I learned and apply it as an actor in 'Hamlet,'" she said. "My favorite part, so far, has been the music. We are incorporating several hymns and folk songs into the show. It's going to be very powerful."

Broulik hopes setting the piece in a 1959 Catholic School will help the audience.

"I feel a sense of it being removed one step in period gives us license, as an audience and with our imagination, to accept the artifice and the heightened language and this heightened universe," he said. "For some reason, you move it just out of a today a little bit, and so they're out of the present in some fashion, we suddenly become more accepting of all these theatrical conventions."

He also chose 1959 due to all of the civil and social change.

"I chose 1959 because the country was on the precipice of much change—the Civil Rights movement, women's liberation, the sexual revolution," he said. "A lot of things were happening where the establishment was changing. At the time, particularly with the political life of Hamlet, that seemed to fit."

1959 was also the year Buddy Holly, the Big Bopper and Richie Valens were killed in a plane crash in Iowa.

"I'm also including some of their music in the soundscape of the play," Broulik said.

Parodi said audiences should expect to be surprised.

"Everyone knows the story of 'Hamlet,' but they don't our story of 'Hamlet,'" she said. "It's going to be fast paced and exciting and different. It's a dark show, and there is heavy subject matter, but don't be afraid to have fun with the show."

Broulik said he is embracing the supernatural elements found in the show.

"There's a lot of supernatural in 'Hamlet.' You can't escape it," he said. "I decided to embrace it. I just think it's going to be exciting and fun."

Utter said audiences should also expect to feel.

"We are going to have so much emotional terrain that is covered and tackled in this show that we are hoping to unite our audience with us and go on a journey together," she said. "Theatre is meant to be shared, and our audience can expect to feel that."

Blythe is looking forward to her first mainstage production in the Johnny Carson School of Theatre and Film.

"This may sound cliché, but am so honored," she said. "It's definitely a lot of pressure to make sure I do my role justice. I'm hopeful that this show will be the start of a successful college career in the Johnny Carson School of Theatre and Film."

She also recommends the audience come early for the production.

"I'd advise anyone coming to see 'Hamlet,' to arrive about 20 minutes early to see the special pre-event," Blythe said.

This is also Broulik's first "Hamlet" production, so he is enjoying the experience with the students.

"I'm looking forward to sharing my love and passion of language with the students," he said. "My own career is becoming more geared toward classical theatre, so to share that discovery and love and that it's not hard and it's not obtuse, that's kind of exciting. Also, I think this production is just going to be beautiful. I think there's going to be a lot of magic in it."

Performances are Nov. 17-18 and 30 and Dec. 1-3 at 7:30 p.m. and Nov. 20 and Dec. 4 at 2 p.m. in the Howell Theatre, located on the first floor of the Temple Building.

Tickets are $18 general, $16 faculty/staff/seniors and $12 students with ID. Tickets are available one hour prior to the performance in the Temple Lobby, or in advance from the Lied Center Box Office at (402) 472-4747 or online at http://go.unl.edu/theatretix.