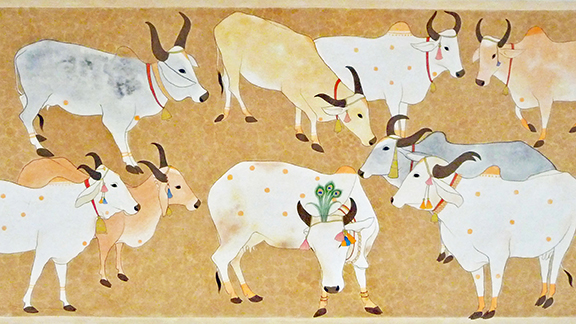 "Pigment on Cloth: Tradition, Family and the Art of Indian Pichvai Painting" is on exhibit in the Robert Hillestad Textiles Gallery through November 16 in the Home Economics Building on the University of Nebraska–Lincoln's East Campus.

This special exhibition introduces gallery visitors to the historic Indian practice of pichvais (pronounced "peach-why" or "peach-veye"), devotional paintings on cotton cloth, originally made as temple hangings in Nathdwara, Rajasthan. The exhibition presents the work of one contemporary family of Nathdwara painters who represent the fifth, sixth and seventh generations of pichvais artists in their lineage. The exhibition documents their continuing creation of these visual narratives, long associated with Nathdwara's Shrinathji temple.

Nathdwara (literally, "Gateway to the Lord") is located on the banks of the Banas River in the Aravalli hills in south central Rajasthan, about 30 miles from Udaipur. Nathdwara's population of about 42,000 residents swells during major Indian holidays like Holi and Diwali, and throughout the year the town welcomes Hindu pilgrims who come to worship at the Shrinathji temple. Founded in the seventeenth century by the Pushtimarg, a Hindu sect that venerates the youthful incarnation of Krishna, the temple remains the center of Pushtimarg devotion.

Antique pichvais sometimes measure upwards of 100" on a side. Suspended on temple walls, they served as backdrops for iconic sculptures or other images of the Lord Krishna. There are precedents suggesting that the Pushtimarg use of these painted panels was influenced by the use of textiles in the Mughal court in the sixteenth and seventeenth centuries. While today they are typically framed and presented as fine art, in the Hillestad Gallery show, the pichvais are shown as unmounted fabric panels, allowing their textile nature to be fully appreciated.

The works on view in this exhibition were created by members of one Nathdwara family that include Kokasiya clan patriarch Charturbhuj Sharma, his sons Yugal Kishore, Shyam Sunder and Mahesh Sharma, and their sons Jatin, Gaurav and Ankit. Like most pichvais painters in Nathdwara, the Sharmas learned their craft from their elders and have passed it father to son, remaining steadfastly faithful to the traditions of pichvai image making and the narratives they represent. Pichvai painting is an art form sustained by strict conventions of reproduction and replication whose objective is to honor the rituals and narratives of Hindu religious belief.

"Thanks to funding support from the Institute of Agriculture and Natural Resources' Office of Global Engagement and from the College of Education and Human Sciences' International Seed Grant Program, I was able to conduct field work in Nathdwara ahead of a Department of Textiles, Merchandising & Fashion Design study tour to India in December 2016," said Michael James, the exhibition's curator and director of the Hillestad Textiles Gallery and department chair.

Accompanied by TMFD alumnus Vamshi Naarani, a filmmaker now living and working in Hyderabad, India, James set out to learn firsthand as much as he could about pichvai painting as a living tradition. A short video produced and directed by Naarani accompanies the show and gives exhibition visitors the opportunity to hear directly from the artists themselves.

"It was pure serendipity that we connected with Shyam and Jatin Sharma within hours of arriving in Nathdwara," James said. "They welcomed us into their studios and home, and over the course of several days, they and their extended family brought the ongoing traditions of pichvais painting to life before our eyes. This exhibition is an opportunity to share with the campus and local communities some of what we discovered on the ground in Nathdwara."

The Robert Hillestad Textiles Gallery hosts a diverse roster of exhibitions throughout the year, including shows of graduate and undergraduate student work and exhibitions drawn from the department's historic costume and historic textiles collections, numbering over 5,000 objects. The gallery is located on the second floor of the Home Economics Building on East Campus, at 1650 N. 35th Street, part of the East Campus Loop (map at http://go.unl.edu/j5v). Hours are 8:30 a.m. to 4 p.m. Monday-Friday and by appointment. Admission is always free. Visitors may park in available visitor slots near the Home Economics building or in metered stalls located in the Nebraska East Union lot. For additional information, go to the gallery's website at http://textilegallery.unl.edu.