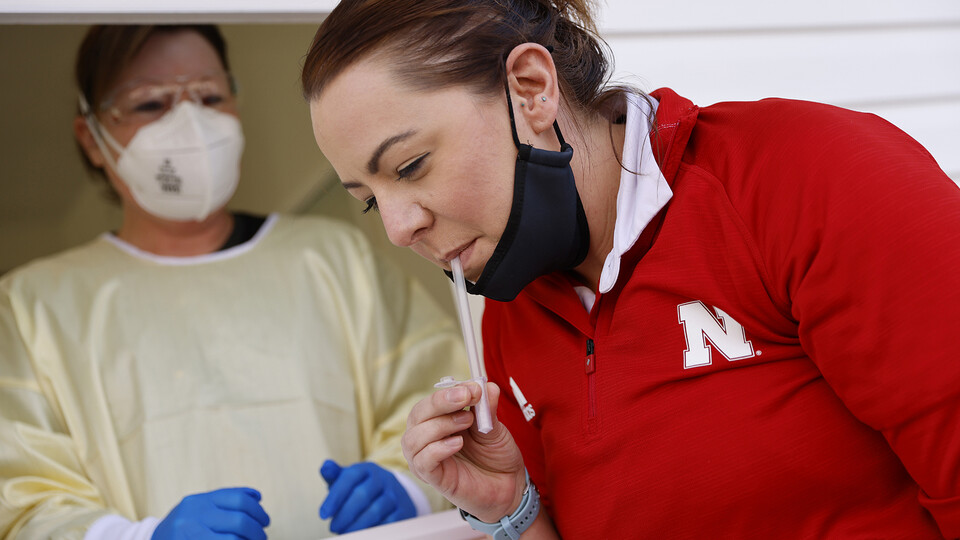 To help us continue to monitor and prevent any spread of COVID-19 on campus in the fall, we are again requiring weekly saliva-based testing for all students, faculty and staff who will be on our Lincoln campuses and are not vaccinated or listed in our vaccine registry.

Regular testing in the Spring allowed us to maintain a positivity rate of less than 1 percent and to quickly contain any spread of COVID-19 on campus. Tests are Sunday through Thursday each week and will remain required weekly for those without exemptions, until public health guidance advises that we may be able to pivot to random testing.

Those who are fully vaccinated are not required to wear face coverings, but are strongly encouraged to do so indoors. You have likely read that the CDC recently advised fully vaccinated individuals to wear face coverings indoors in areas of substantial or high transmission (which is the current status in Lancaster County). As cases of the Delta variant increase in Nebraska, we will continue to closely coordinate with LLCHD and will adapt if needed and necessary should directed health measures change.

Anyone who is unvaccinated remains susceptible to infection, particularly the highly transmissible Delta variant, and is expected to wear a face covering. If you are unable, or unwilling, to protect yourself and others with a vaccine, it is critically important that you utilize other protective measures.

On-campus vaccination clinics are available for those wishing to receive a vaccine. See the Vaccination Information page for times and locations.

Campus re-entry testing was required for Fall 2021, at the directive of the Lincoln-Lancaster County Health Department, for ALL students, faculty and staff who will be on our Lincoln campuses.

If you are fully vaccinated against COVID-19, you can submit your vaccination information to the Voluntary COVID-19 Vaccine Registry to receive an exemption from weekly testing after the re-entry period. For more information about vaccinations and the registry, visit the Voluntary COVID-19 Vaccine Registry page.

You can also request an exemption for one or more of the following reasons:
1. You can provide documentation of a positive COVID-19 test in the prior 90 days, and you have completed your 10 days of isolation. Submit an exemption so your Safer Community app will show an "Access Granted" status until the 90-day exemption expires, upon which you will be required to participate in the testing program. If you test positive through the UNL Saliva Testing Program, the Safer Community app will automatically grant you an exemption after your 10 days of isolation, so no need to request an exemption in that case.
2. You can provide documentation of a health-care provider's note that substantiates a medical reason for an exemption request. You will be able to enter university buildings using the Safer Community app.

We are again using the Safer Community App to allow for access to campus buildings and campus activities. Those who have an approved exemption on file will have a continuous "Access Granted" status on the app until such time as any vaccine boosters may be required or other exemptions expire.

More info and answers to frequently asked questions can be found here.
More details at: https://covid19.unl.edu/fall-2021-campus