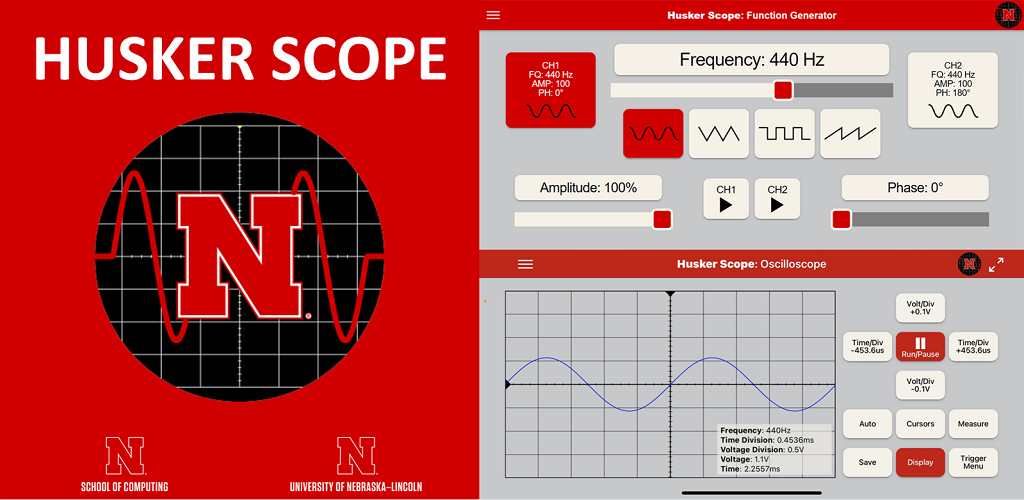 Hardware testing just got a little less complicated for engineering students, thanks to a group of their fellow classmates.

Students in the School of Computing's Senior Design program are in the process of developing "Husker Scope," an all-in-one, cross-platform mobile and web app that operates as both a dual-channel function generator and an oscilloscope. The app would be used primarily in the Advanced Embedded Systems course, which focuses on hardware design and development techniques. The app would also be a helpful tool in other engineering courses or even for solving real-life technical issues.

Senior Design is a computing capstone course in which teams of students spend a full academic year working closely with an industry or faculty sponsor to develop an innovative new product. The Husker Scope project is sponsored by computing lecturer Jeff Falkinburg and computing coordinator Charles Daniel, who wanted to create a free and multi-functional app that could be used by all students in engineering classes. Currently, most available apps only perform one function, and none are compatible with both iOS and Android devices.

"Android had plenty of apps available for free, but for iOS, you either had to pay or even add extra hardware," Falkinburg said. "We just wanted a one-stop-shop so everyone in a class — whether you're on Android or iOS — could use the same path and it would serve both functionalities."

Falkinburg, who teaches the Advanced Embedded Systems course, explained that his students test hardware by using a dual-channel function generator to produce different types of electrical waveforms over a wide range of frequencies. The generator feeds into an oscilloscope, which is used to analyze and display those waveforms. Husker Scope will resemble and combine existing apps to form one that would include the capabilities of both instruments.

Since most students on the team have already completed the course, they were able to draw from previous experience to envision the new product.

"We knew what we wanted out of it, and we were able to base a lot of the functionality off of the assignments in that class," said student developer Riddock Moran. "When we were using the function generator, I didn't have any way to see the waves I was getting out, so having the oscilloscope on my phone would have been really handy."

Team members believe that this app will be a much more user-friendly alternative for all engineers, especially beginners.

"If you're brand new to the subject, it would be a lot easier to use than the o-scope that's in there now," said student developer Michael Rahe. "We can't even understand what the heck is going on with that one. Our app is pretty simplistic in its design."

The students also said Husker Scope has already proven to be useful in other engineering courses for a variety of reasons.

"The circuits lab is now remote, so if students could just do the testing on their phone instead of having to go to the lab, that would help a lot," Moran said. "I'm taking a digital signal processing class now too, and I've been using it in that."

While Falkinburg has overseen multiple other Senior Design projects, this is the first project Daniel has sponsored. He said he's been extremely impressed by both the students and the program.

"They meet every week, they give us updates, they think about the challenges for the next week, and it's impressive how they almost always meet those challenges," Daniel said. "It's been a fantastic opportunity to observe how the whole process works and what the team has been able to achieve."

The Husker Scope app will be available to download for both iOS and Android in the App Store and Google Play store this spring. The web app version of Husker Scope, which can be used with a standard laptop browser, is already available online. Both versions will be demoed at the upcoming College of Engineering Senior Design Showcase on May 6 at Nebraska Innovation Campus.