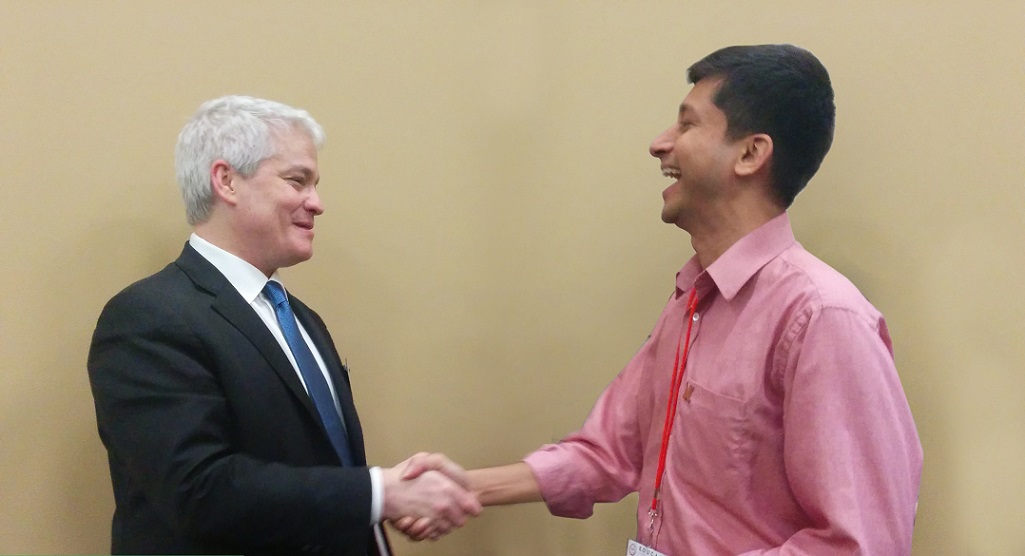 Saravanan Raju, Research Engineer, Computer Science and Engineering, is a recipient of the 2017 Jane N. Ryland Fellowship. The fellowship was awarded by EDUCAUSE, the largest association of computing and information technology professionals in higher education.

The Ryland fellowship program is designed to help build future leaders in computing and information technology; it recognizes an individual's past achievement, and personal and institutional commitment among other aspects, while fostering professional development. The program is part of EDUCAUSE's mission to enable professionals in technology to contribute to strategic decisions across the board within higher education.

"For more than a decade now, I have had the opportunity to design computing solutions for many Department of Education grants that serve students of both Lincoln Public Schools and the University of Nebraska. I am grateful to my advisor Dr. Deogun, the Computer Science department, and more importantly, TRIO programs for supporting me during this period. I would like to thank EDUCAUSE for recognizing my work, which would not have been possible without the support of my peers across the university system," Raju said.

Mark Askren, Vice Chancellor for Information Technology and Chief Information Officer of Nebraska had this to say: "EDUCAUSE is an association that leverages the best thinking in Higher Ed Information Technology today. Technology has a critically important place in universities these days in terms of providing innovation and transformation in all areas related to student success. The University of Nebraska has been an active contributing member of EDUCAUSE for years. Our colleagues on all of our campuses have served in leadership roles, authored articles and contributed to research, and collaborated on panels and presentations. For Saravanan Raju to be recognized by EDUCAUSE through this fellowship is a great honor."

The 2017 Jane N. Ryland Fellowship was awarded to members from eight educational institutions across the United States. The full list of the Ryland Fellows can be found here: https://go.unl.edu/jane-n-ryland-fellow-2017

About Jane N. Ryland Fellowship
The EDUCAUSE fellowship program was established for the development of technology professionals in higher education, and named in recognition of Jane N. Ryland, who served as the president of EDUCAUSE from 1986 to 1998. Ryland held positions in higher education and private industry, including that as Virginia Tech's first database administrator, a Membership Consultant for the Internet2 consortium, and a trustee at the global library cooperative, Online Computer Library Center.

About EDUCAUSE
EDUCAUSE is the preeminent association of computing and information technology professionals in higher education institutions. As a diverse network of 1,658 U.S. and 264 international colleges and universities in 45 countries, and 348 corporations, the association provides a platform where valuable perspectives on technology strategies are shared. To learn more about EDUCAUSE, visit: https://www.educause.edu/.