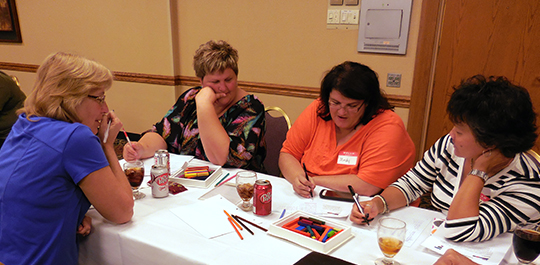 The NebraskaMATH Partnership invites all who are heading to Kearney to join us for light refreshments and a reception from 5:30 - 6:30 p.m. on Sunday, Sept. 13, at the Holiday Inn in Kearney. This is a great opportunity to meet new colleagues or re-connect with old friends. No RSVP required!

Following the reception, from 6:30 - 8 pm, you are invited to stay for dinner and participate in one of two Greater Nebraska Math Teachers Circle events.

DINNER: 6:30 - 7 pm
PRESENTATIONS: 7 - 8 pm
LOCATION: Holiday Inn, Kearney, NE

ELEMENTARY PRESENTATION: "Geometry Standards Take Shape"
PRESENTERS: Andrew Boone and Jessica Dickes of Gretna Public Schools
DESCRIPTION: What does it mean to communicate, reason about, solve problems with and make connections amongst geometric concepts in math? Through this workshop we will work to help you identify standards within the newly developing Nebraska Math Standards and engage you in hands-on activities that can be implemented within your own classroom. These activities will be designed to target geometry standards and help you and your students communicate and think critically about geometric concepts. Join us as we seek to build critical thinkers in our math classrooms.

SECONDARY PRESENTATION: "Power to the Triangle!"
PRESENTERS: Dan Schaben (Arapahoe Public Schools), Alicia Davis (Lincoln Public Schools) and Kelsey Wells (Graduate Student, UNL Department of Mathematics)

DESCRIPTION: What does it mean to "square" a triangle? What about "undoing the square" of a triangle? This session will investigate results of squaring and taking the square root of triangles. You are welcome to bring a laptop to investigate the topic using GeoGebra, though this is not necessary.

If you wish to also register for the NATM conference, there's still time. Visit http://www.natmonline.org/.