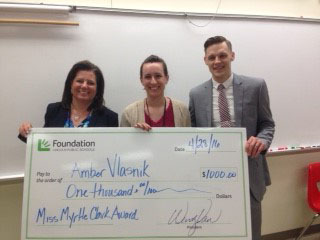 Amber Vlasnik, Noyce Master Teacher and MAT graduate, of Lincoln High School won the Miss Myrtle Clark Outstanding Mathematics Educator Award and $1,000 in April 2016 from the Lincoln Public Schools Foundation.

The Myrtle Clark award was established by a former student to honor Miss Myrtle Clark, a former mathematics teacher at Lincoln Northeast High School and Jackson High School. The award is given to recognize excellence in mathematics teaching and provide a source of funding for LPS mathematics educators for summer school courses to advance teaching skills or for pursuit of an advanced degree in mathematics.

Congratulations to Amber!