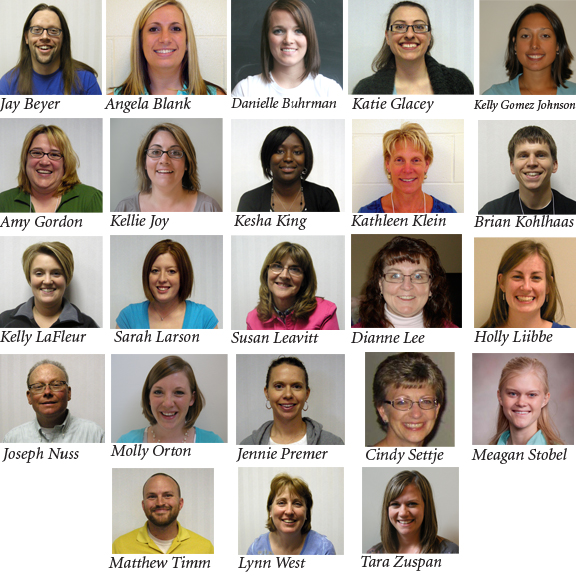 Thirteen Omaha Public Schools teachers earned their master's degrees from the University of Nebraska-Lincoln as a result of participation in the Math in the Middle Institute Partnership, while eight other teachers from across the state also earned graduate degrees in August through NebraskaMATH and the Nebraska Math & Science Summer Institutes. Several other teachers earned graduate degrees by completing an NMSSI course, and we are pleased to have helped you reach this goal.

The 13 Math in the Middle teachers comprised the last cohort of MIM graduates. Those teachers who earned a Master of Arts for Teachers with a Specialization in the Teaching of Middle Level Mathematics (MAT) from the Department of Mathematics are: Jay Beyer, Wakonda Elementary; Katie Glacey, Sherman Elementary; Amy Gordon, Monroe Middle School; Kesha King, Chandler View Elementary; Brian Kohlhaas, Monroe Middle School; Kelly LaFleur, Lewis and Clark Middle School; Sarah Larson, Alice Buffett Magnet Middle School; Susan Leavitt, Skinner Magnet Center; Dianne Lee, Sherman Elementary; Joseph Nuss, Bancroft Elementary; Jennie Premer, McMillan Magnet Center; Matthew Timm, Belvedere Elementary; and Lynn West, Marrs Magnet Middle School.

Ian Pierce, a UNL graduate student in mathematics who assisted with MIM courses, also graduated in August with his Ph.D.

Eight other teachers earned graduate degrees in August. Nebraska Algebra teachers Angela Blank (Cedar Hollow School, Northwest Public Schools), Kathleen Klein (Horizon Middle School, Kearney Public Schools) and Holly Liibbe (Culler Middle School, Lincoln Public Schools) earned MAT degrees, as well as Kelly Gomez Johnson (Papillion-La Vista South High School, Papillion-La Vista Public Schools) through New Teacher Network and the NMSSI. Primarily Math teachers Kellie Joy (Clinton Elementary, Lincoln Public Schools), Molly Orton (Adams Elementary, Lincoln Public Schools), Cindy Settje (Leigh Community Schools) and Tara Zuspan (Cavett Elementary, Lincoln Public Schools) earned Master of Arts degrees from the Department of Teaching, Learning and Teacher Education.

Gomez Johnson, who already had a master's degree from UNO, earned her MAT through New Teacher Network, Nebraska Algebra and the NMSSI.

"I don't think when I started this program that I realized how much it was going to impact me as a teacher and mathematician. Instead of taking random graduate courses, I was able to take 36 high-quality graduate hours connected to my craft, at barely any cost to me. This enormous gift I was given was only through the hard work of so many at the Center, especially Jim Lewis," said Gomez Johnson. "The networking with other teacher professionals, challenging coursework and support are characteristics of this program for which I'll be forever grateful."

In May 2011, New Teacher Network teachers Danielle Buhrman (Grand Island Senior High, Grand Island Public Schools) and Meagan Stobel (Bayard Jr/Sr High School, Bayard Public Schools) earned their MAT degrees. Four UNL mathematics department graduate students who assisted with MIM courses (Michael Holm, Laura Lynch, David McCune and Tyler Seacrest, who also helped with an NMSSI course in Summer 2011) also graduated in May.