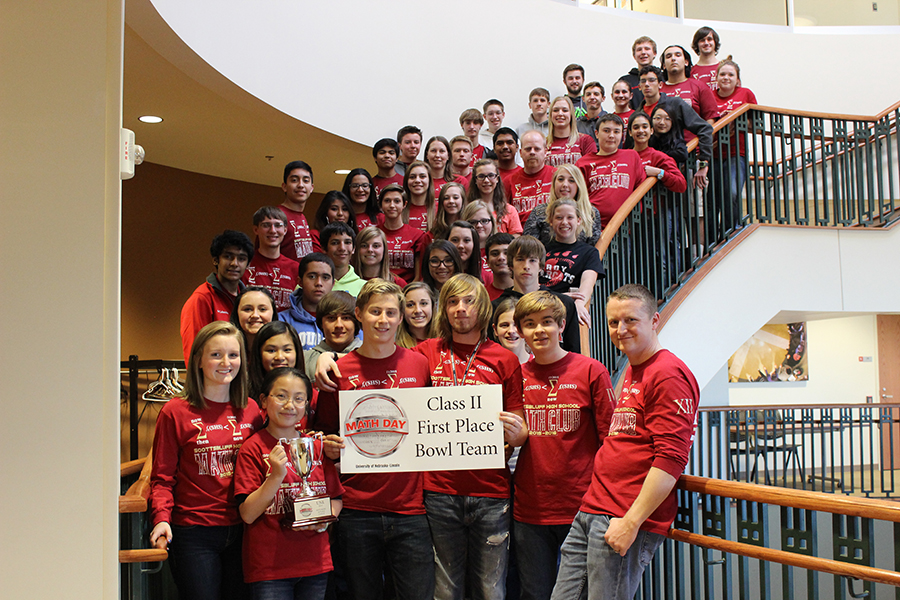 Not only has a record number of students registered for Nebraska Math Day on Nov. 17, three schools are also attending for the first time.

Crete High School, Mitchell Jr/Sr High and Santee High School are making an inaugural trip to this 27th annual event, hosted by the University of Nebraska-Lincoln Department of Mathematics.

"We decided to bring our students to Math Day for the first time this year because it not only promotes UNL and the great math program that it has, but it helps open our students' eyes to the opportunities that are within reach for them," said Tony Jacobsen, a math teacher at Crete. "Math Day may even push some of our students to pursue a math career after they see all of activities that Math Day has in store for them. Our students will enjoy the challenge of a math competition so they can see how they stack up against students from other schools."

Nearly 100 Nebraska high schools registered to bring 1,725 students to Math Day, which will occupy rooms in the Nebraska Union, Gaughan Center and Wick Alumni Center. While not as many schools have registered as in previous years, most of these 98 schools are bringing more students this year. Omaha Central High plans to take 75 students, Wahoo 70 and Scottsbluff 63. In 2015, 1,523 students attended Math Day from 102 schools.

Three other schools are returning to the event after a long hiatus. Plainview High is attending for the first time since 1999, Humboldt Table Rock Steinhauer High School since 2005 and Heartland Community Schools since 2006.

Math Day, which consists of both individual and team competitions, recognizes high school students and exceptional middle school students who are interested in mathematics. All students participate in a multiple-choice, preliminary exam called PROBE I (Problems Requiring Original and Brilliant Effort). The top 40 students then move on to take the essay exam, PROBE II. The PROBE top 10 Nebraska high school students (sum of PROBE I and II) are awarded a total of $34,000 in four-year scholarships to UNL. Approximately 100 schools also compete in the Math Bowl, a double-elimination tournament pitting three-member teams against one another.

Volunteers are still needed to proctor the morning exam for this year. Those interested in helping should contact mathday@unl.edu.