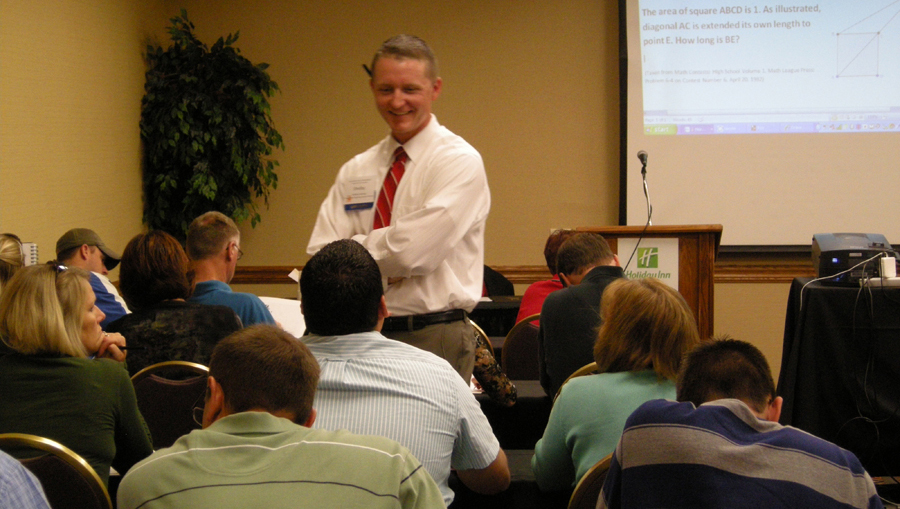 Make plans to attend! All teachers of mathematics (especially of grades 6-12) are invited to join in an evening of free food, fellowship and fun at a "Dinner & a Math Problem" event or "Math Teachers Circle" near you.

Fall 2011 dates for Dinner & a Math Problem events in Scottsbluff, Norfolk and Hastings are scheduled as follows:

Hastings
Date: Tuesday, November 15
Time: 5:30 p.m.
Location: Hastings Middle School
Contact: Alicia Davis, adavis@esu9.org

Norfolk
Date: Wednesday, November 9
Time: 6:30 p.m.
Location: Northeast Community College, Science Building
Contact: Stacey Aldag, stacey@northeast.edu
Topic: Probability and Statistics with Technology

Scottsbluff
Date: Tuesday, December 6
(Watch for more information in the November newsletter)
Contacts: Shelby Aaberg, saaberg@sbps.net
Meagan Stobel, stobelm@panesu.org


Math Teachers Circles (MTC) are similar to Dinner & a Math Problem events, but meet on a more regular basis. MTC events convene regularly in Lincoln, Kearney and Omaha. Visit the MTC website at http://www.scimath.unl.edu/mathteacherscircle for information about the MTC in each of these locations. The Fall 2011 schedule is as follows:

Central Nebraska Math Teachers Circle
Horizon Middle School, Kearney
6-8 p.m.
Monday, November 21
RSVP to Dr. Pari Ford, fordpl@unk.edu

Lincoln Area Math Teachers Circle
Culler Middle School, Lincoln
5:30-7 p.m.
Thursday, November 17
RSVP to Anne Schmidt, aschmid@lps.org

Omaha Area Math Teachers Circle
Location: TBA, Omaha
6-8 p.m.
Thursday, November 10
Contacts: Dr. Angie Hodge, amhodge@mail.unomaha.edu
Dr. Janice Rech, jrech@mail.unomaha.edu
Valerie Schovanec, valerie.schovanec@ops.org

We will continue to keep you informed so watch for additional information in future newsletters or email nebraskamath@unl.edu with questions.