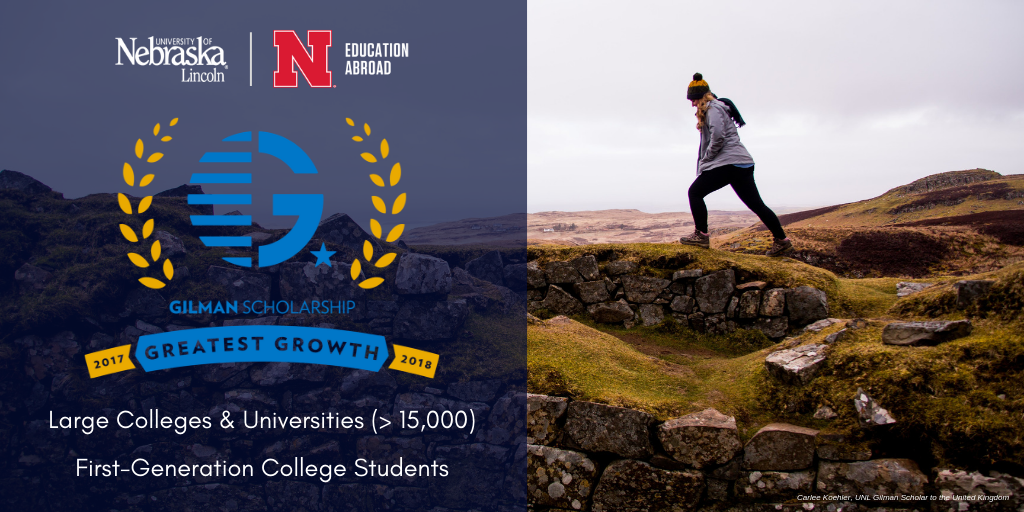 In early March 2019, the U.S. Department of State announced the U.S. higher education institutions that experienced the most growth on students accepted into the Benjamin A. Gilman International Scholarship Program in academic year 2017-18. The University of Nebraska-Lincoln was recognized for its success in making international study and internships more accessible and inclusive for American students of all backgrounds through the Gilman Program.

Nebraska has been cited for success in the following categories:

Greatest Growth: Large Colleges and Universities (>15,000 Undergraduates)

Greatest Growth: First-Generation College Students

"Approximately 20% of Nebraska's undergraduate students are Pell-eligible, so the Gilman Scholarship has long been a key part of our strategy to raise awareness of education abroad among students with financial need and to help them make education abroad a reality," said Rebecca Baskerville, Director of Nebraska's Education Abroad Office. "While we knew that 2017-18 was a record-setting year for Nebraska, we were excited and honored to learn that we had experienced the greatest growth nationwide in these two categories."

During the 2017-2018 academic year, Nebraska also produced a record number of Gilman Scholars, sending 34 students to 20 countries for summer, fall and spring semester programs.

The Education Abroad Office offers various resources for students who are eligible and interested in applying to the Gilman Scholarship Program, including informational sessions, essay-writing workshops, and designated walk-in hours. The staff work closely with the Office of Fellowships and Office of Scholarships and Financial Aid to help students submit applications.

For questions about applying for the next round of the Gilman Scholarship, students can make an appointment by emailing educationabroad@unl.edu or calling the office at (402) 472-5358.

For a full list of higher education institutions that sent Gilman Scholars overseas in 2017-2018, including top producing institutions and those displaying the greatest growth in Gilman awardees as compared to last year, please visit the Gilman Scholarship website.

The Benjamin A. Gilman International Scholarship Program, with the support of the U.S. Congress, is reshaping study abroad to make it more accessible and inclusive for American students. The Gilman Program broadens the U.S. student population studying and interning abroad by providing scholarships to outstanding undergraduates who, due to financial constraints, might not otherwise participate. Since the program's establishment in 2001, over 1,300 U.S. institutions have sent more than 28,000 Gilman scholars to nearly 150 countries around the globe.