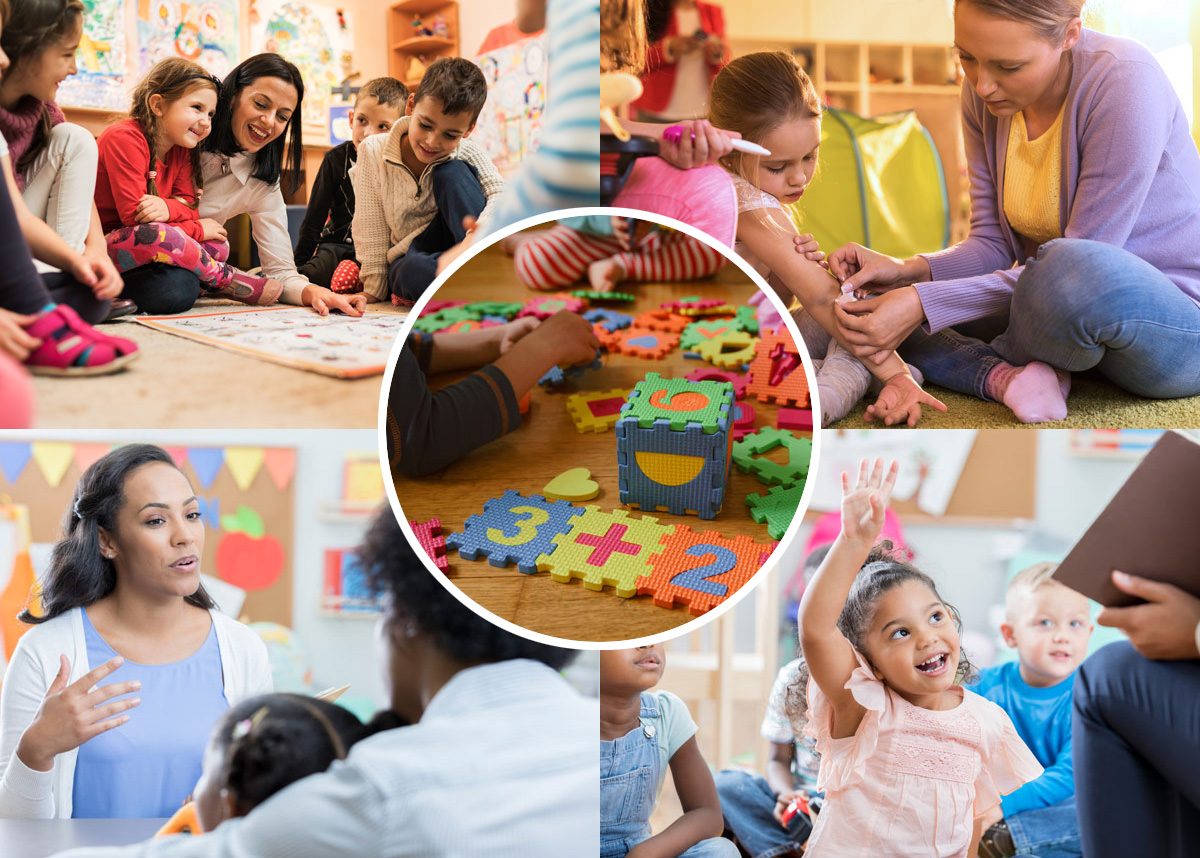 By Jaci Foged, Extension Educator in Lancaster County

Finding quality child care near your location might seem like an overwhelming task. The Voices for Children organization reported in their Kids Count in Nebraska 2019 Report that 77.1% of all available parents in Nebraska are in the workforce, and nearly 80% of children ages 0–5 are in some form of paid child care.

A high-quality workforce is vital to care for our youngest population while parents and caregivers are working. The first 1,000 days of a child's life have a profound impact on their brain development. We know that early relationships, environments and experiences affect all aspects of a child's development. Finding the right place for your young child is going to take some work.

FIVE AREAS TO CONSIDER
The Learning Child team at Nebraska Extension has created a website at http://child.unl.edu/quality-child-care to guide parents seeking potential caregivers for their little one(s). The team received a national Extension first-place award for this website! The team identified five areas to consider when choosing a child care program.

1. Relationships — Children develop through relationships with attentive adults. Every day, teachers help your child feel secure and important. From the morning greeting to the end of the day, teachers should interact warmly with your child. Children who feel safe and cared for, grow in all areas of their development.

2. Health and Safety — The program should promote the nutrition and health of children, and protect children and staff from illness and injuries. Children must be healthy and safe in order to learn and grow. Child care programs should prepare healthy food, provide opportunities for physical activity and provide a safe environment.

3. Curriculum and Approaches To Learning — Program activities should involve learning experiences through active involvement with people and materials. It should be play-oriented and child-centered, encouraging children to develop their natural love of learning. These practices should be developmentally appropriate and align with state early learning guidelines or standards (see https://www.education.ne.gov/oec/early-learning-guidelines). Research shows curriculum content that emerges from the interest of children, leads to greater engagement with activities and experiences increasing children's positive approaches to learning. Positive approaches to learning include characteristics such as curiosity, persistence, creativity and problem-solving skills.

4. Learning Environment — The physical environment should include appropriate indoor and outdoor spaces to enhance learning activities for children. The environment consists of the physical layout of the room, materials children have access to and the overall sense of belonging.

5. Policies and Administration — Programs should develop policies and procedures including family handbooks to maintain consistency within their program. Family handbooks are especially important, so parents understand what programs offer for their children and families.

Nebraska Extension has checklists to take when you tour a child care program for each of the five topic areas identified above [see "Lincoln's Strengths and Assets" below]. Print-friendly versions are at https://child.unl.edu/choosing-quality-child-care.

WHERE CAN YOU FIND QUALITY CHILD CARE?
According to Kids Count in Nebraska Report, in 2018 there were 2,834 licensed child care facilities in Nebraska.

In 2020, First Five Nebraska, Buffett Early Childhood Institute, Nebraska Department of Health and Human Services, Nebraska Department of Education, Nebraska Early Childhood Collaborative, Nebraska Children and Nebraska Extension collaborated to create a website to help you find child care. Visit http://nechildcarereferral.org to find a licensed child care program near you. On the website, you can search for child care within a certain number of miles from a specific address and even look at programs who have available openings.

Step Up to Quality is a Nebraska resource coordinated by the Nebraska Department of Education to help both families and child care providers learn more about implementing and selecting quality care. To learn more, visit https://stepuptoquality.ne.gov. In March of this year, Step Up To Quality reported they now have more than 500 programs participating in the Quality Rating Improvement System (QRIS). This QRIS system was passed by the Nebraska Legislature in 2013. The system uses professional development, formal education and coaching to improve early care and education. This will increase the positive outcomes for Nebraska's youngest children.

****************************************

CHILD CARE CHECKLISTS
Take these questions with you to ask child care programs to learn more on each topic.

Relationships
☐ How do teachers keep families regularly informed about our child's activities?
☐ How does this program respect language, culture and the values of families?
☐ How will you help me with my child's initial adjustment to your child care?
☐ Am I welcome to drop into the program at any time?
☐ How will we work together to help my child transition to the next class?
☐ Will my child have a consistent caregiver?

Health & Safety
☐ What meals and snacks are served, and are they prepared on site or catered in?
☐ Are emergency numbers posted?
☐ Do you have a space for mothers to breastfeed?
☐ How often does the program need a health report from our doctor?

Curriculum & Approaches to Learning
☐ What is your daily routine with the children and how do you plan for individual children's needs?
☐ Do you use a curriculum and if so, what is it and why did your program choose it?
☐ How does your curriculum align with early learning guidelines or standards?
☐ How will my child's learning and culture be supported?
☐ How do you train and support your staff with this curriculum?
☐ What do you notice the children enjoy about the activities during the day?

Learning Environment
☐ How much time do children spend outside?
☐ What is your policy on weather and outside play?
☐ What do you notice is the children's favorite thing to do outside?
☐ Do you have an area for indoor play when children can't go outside?
☐ How many children can be in this space at one time?
☐ How do you determine what materials you provide for children?
☐ Does my child need any extra clothes for outdoor play?
☐ Will my child have their own space for storing items from home, like extra clothing, book bag, coat, etc.?

Policies & Administration
☐ Did you receive a copy of the family handbook to look at before you enrolled your child?
☐ How are parents engaged in program events?
☐ How can I express concerns regarding my child's care or education?
☐ What is the center's sickness and health policy?
☐ What is the severe weather policy?
☐ Do you have an emergency preparedness plan?
☐ What happens if I am late to pick up my child?
☐ Is there always an administrator on site, or designated lead?