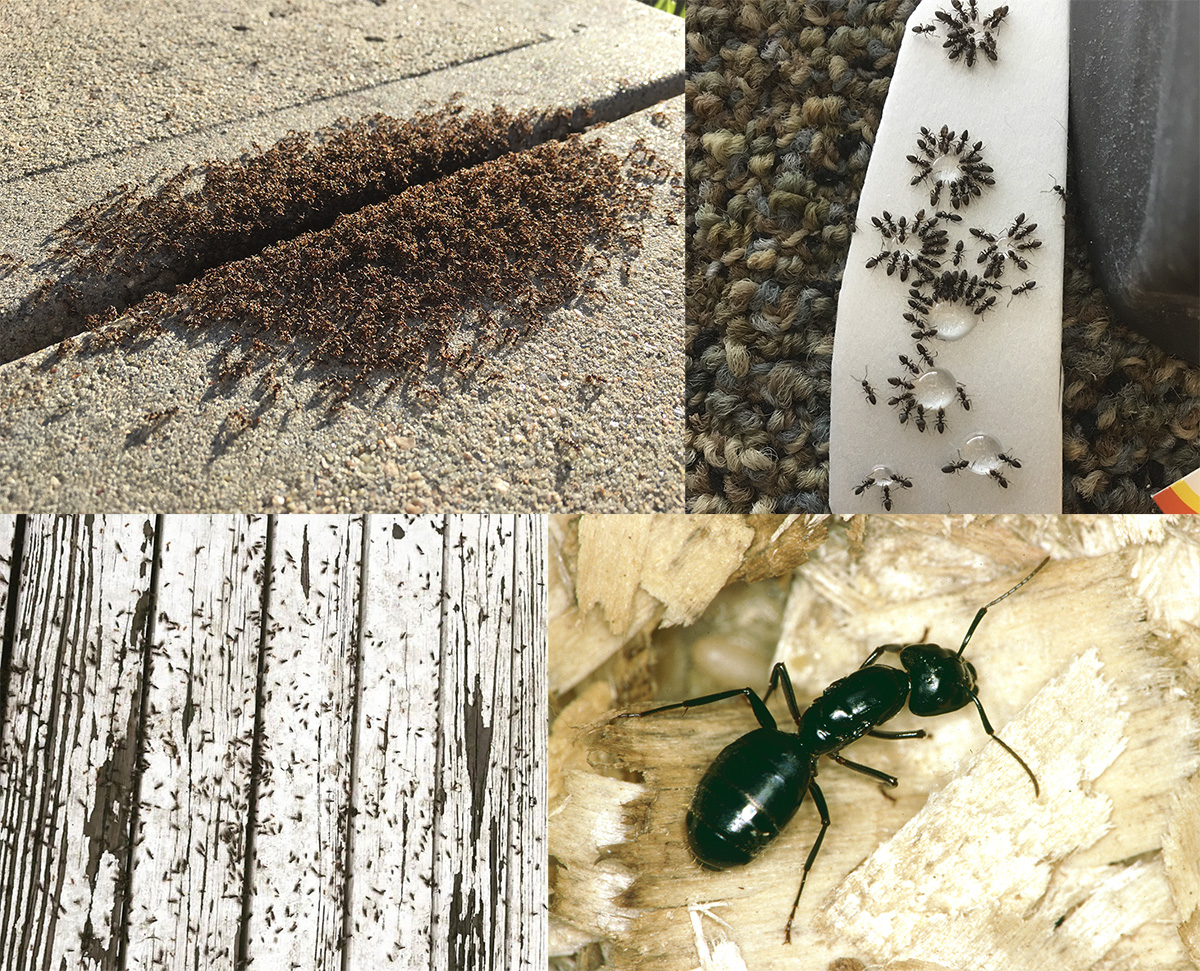 By Kait Chapman, Extension Educator in Lancaster County

Ants can be a bothersome pest, especially when they get into our homes and infest our kitchens or cause structural damage in wood. But not all ants in every scenario are bad. In fact, in our landscapes, ants can sometimes be considered beneficial predators, soil aerators, decomposers and an important food source of other beneficial insects and spiders. So before you reach for that can of insecticide, think to yourself, "Is this ant really a pest?" If it's outdoors, then probably not.

Here are some common ant-scenarios and what you can do to prevent them.

CARPENTER ANTS IN THE HOME
Carpenter ants do not eat wood. They do, however, create nests in dead, water-damaged wood. If you see carpenter ants in your home, it could be indicative of a larger problem. In the case of carpenter ants, contacting a pest management professional is recommended to potentially locate and treat colonies. Eliminating moisture problems in the home may also prevent future infestations.

SWARMING CITRONELLA ANTS ON THE PORCH
The majority of reports of citronella or yellow ants we receive are because winged ants are swarming and emerging from underneath porches or concrete slabs. While some ants may make their way indoors, the swarming is harmless and shouldn't be sprayed. If they become too much of a nuisance, they can be vacuumed and disposed of without the use of insecticides.

ODOROUS HOUSE ANTS IN THE KITCHEN
Odorous house ants are frequent structure-invading ants. If you find yourself battling these ants indoors, you can use ant bait stations laced with a toxicant in areas where ants are seen frequently. The ants will need to feed from the bait and take the toxicant back to its colony. If you can locate the main colony, likely outdoors, it can be sprayed directly with an appropriate insecticide.

PAVEMENT ANT NESTS IN THE SIDEWALK
As their name suggests, pavement ants nest under sidewalks, driveways and building foundations. If you see ant mounds in the cracks of your sidewalk, just leave them be. Pavement ants will sometimes nest inside during the winter, but can be managed by using commercial baits.

Need an ant identified? Contact your local Extension Office or visit https://go.unl.edu/ants for more information.