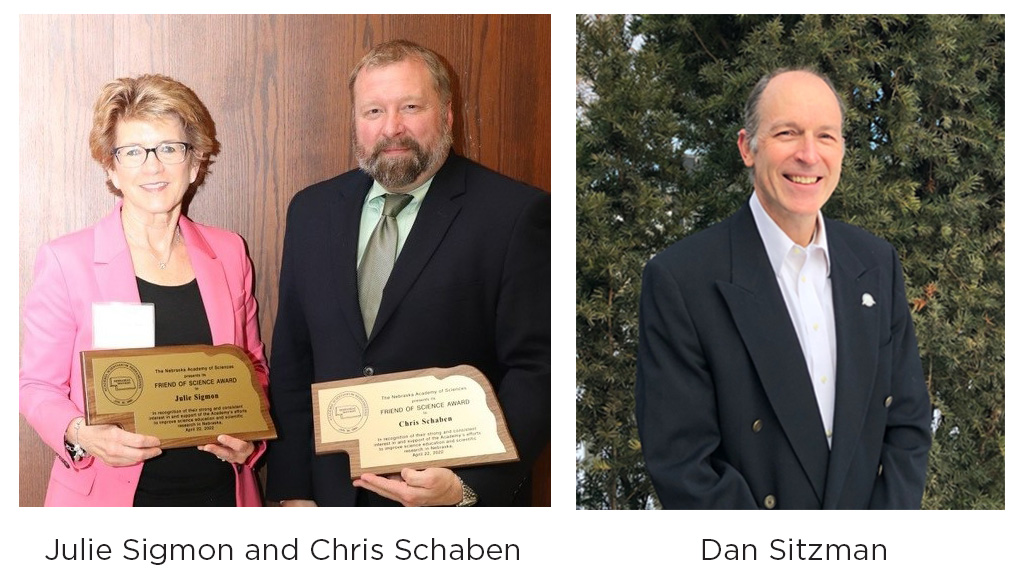 The Nebraska Academy of Sciences awarded two Friends of Science awards at the 132nd Annual Science Conference of the Nebraska Academy of Science in April 2022 to Chris Schaben and Julie Sigmon.

Dr. Schaben is the science supervisor of Omaha Public Schools. One of Schaben's direct impacts on improving science instruction is encouraging and expanding high altitude ballooning in the school district. When evaluating the experiences of five Omaha Public Schools high school students who designed experiments flown on one of the last space shuttle missions, Schaben sought a means to engage more students with a highly accessible and economical opportunity to send experiments into space. By connecting with local and national practitioners, within a year, Schaben implemented "Omaha Public Schools' Near Space Students' Experiments Program," providing equipment and expertise for students from elementary, middle and high schools to send experiments of their own design 20 miles high. With 98 launches, the Omaha Public Schools has launched more high-altitude balloon experiments than most universities.

Schaben, a AAAS Fellow and a past president of NAS, is an effective leader of local and state science and science education organizations. He currently serves as vice president of the Nebraska Junior Academy of Sciences. He also earned a Distinguished Professional Achievement Award from the College of Education, Health, and Human Sciences at the University of Nebraska at Omaha at the 33rd Annual Hollie Bethel Distinguished Alumni Event Luncheon on April 8.

Sigmon is the executive director of the Omaha STEM Ecosystem (OSE), a non-profit organization whose mission is building a stronger community by connecting education and business development for tomorrow's STEM workforce. Sigmon is a lifelong advocate for education that develops the skills necessary to be successful. Relocations across the country presented a unique opportunity, allowing her family to understand the diversity of educational challenges and how to apply strategies to achieve their educational goals. Over the 20 years in the Omaha area, education has remained her priority and drives her passion to assure all members of our community have access and equity to educational pathways. With varied experience as an educator, school administrator, chief operating officer of a non-profit youth organization and contract work around quality in STEM programs, she has been an advocate for students and educators in building strong STEM programs and innovative models. Her focus and leadership around community development and building a STEM focused infrastructure, creates a balance between industry demand and available talent.

Sigmon is active in the Omaha community and currently serves on the Board for Clarkson College, and an advisory board member for Heartland Workforce Solutions Youth Council, NE Beyond School Bells Network, Omaha Chamber Education Advisory Council, Women In STEM/Bio Nebraska Leadership, the Kiewit Luminarium Center, Million Girl Moonshot, Aviation STEM Day, Metro Science and Engineering Fair, NE Science Festival and the Ralston School District Blueprint STEM board.

Dan Sitzman had the honor of giving the Maiben Memorial Lecture, during which he presented on the History of the Nebraska Academy of Sciences. For over 60 years, the Maiben Memorial Lecturer is the featured speaker at the annual meetings of the Nebraska Academy of Sciences and the Nebraska Association of Teachers of Science.

Sitzman is an Omaha Public Schools science educator with 31 years' experience at the middle and high school levels. As a biology and chemistry teacher at Omaha North High Magnet School, he received the 2003 Presidential Award for Excellence in Science Teaching. Sitzman then served as Curriculum Specialist at Omaha North for 12 years, remaining directly involved with students as co-sponsor for the school's Science Olympiad and Science Bowl teams, mentoring Science Fair students and directing Omaha North STEM Summer Camps. Since 2015, Dan has served as a districtwide Science Instructional Coach, supporting science teachers at 12 middle schools and seven high schools. He continues to mentor student science researchers, including many who have presented at the American Junior Academy of Sciences. His professional leadership at the local, state, and national level includes terms as President of the Nebraska Academy of Sciences, Nebraska Association of Teachers of Science, and, currently, the Metropolitan Science and Engineering Fair. He presently serves on boards for Nebraska Science Festival, Nebraska Science Olympiad, Nebraska Junior Academy of Sciences, and on the Long-Range Planning Committee for the Nebraska Academy of Sciences. For over two decades, he has taught at University of Nebraska-Omaha's Aim for the Stars Summer STEM Camps. When he is not bicycling or hiking with his family, Sitzman researches and catalogs the histories of local organizations, including high school sports teams, the Nebraska Association of Teachers of Science, and the Nebraska Academy of Sciences. Dan earned a B.S. in natural science from St. John's University (Minnesota) and an M.S. in curriculum and instruction from the University of Nebraska at Omaha.