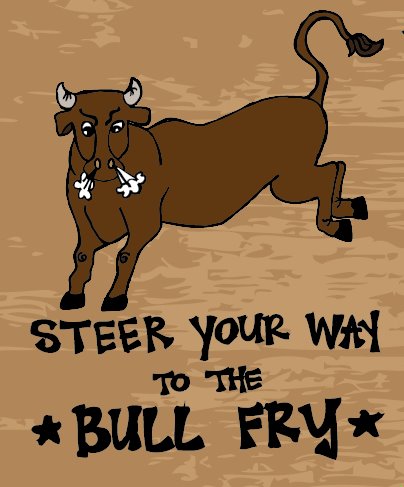 The Bull Fry is an annual philanthropy event planned and coordinated by UNL students of the Burr-Fedde Senate Government and the Burr-Fedde-Love Residents on the University of Nebraska- East Campus. 2012 will mark the 16th year for the event. Each year a recipient is picked who is in need of financial assistance due to a unfortunate circumstance such as a medical condition or natural disaster. The Bull Fry and Bull-a-Thon events will help raise money to assist the chosen recipient in the expenses that have accrued from their unfortunate circumstance.

The fun kicks off early on Friday, with the annual Bull-a-Thon from 7 p.m.- Mindinght on East Campus. Teams of 4-5 can compete in the ultimate East Campus bowling tournament! Teams will be competing for prizes donated by Lincoln and local Nebraska businesses. All proceeds raised from this event and the Bull Fry will go towards the Bull Fry recipient family. This is one fun event; make sure to bring and invite all your friends! Register at: http://www.tinyurl.com/bullathon

Recipient Information:

The 2012 Bull Fry Recipient is the family of Amanda Yrkoski. Amanda is 17 years old and a senior at Fullerton High school. She is the daughter of Joe and Mary Yrkoski. Amanda has two younger sisters, Samantha (age 13) and Elizabeth (age 11). Amanda was admitted to a neuro specialist after a tumor was found on the back of her brain. Three MRI's and a biopsy later revealed a cancerous inoperable mass. During the biopsy, the specialist believed to have removed it all; however another MRI revealed the cancerous material was still present. A second tumor has been discovered and Amanda has been diagnosed with stage four cancer. Amanda's younger sister, Sam, has had a series of violent asthma attacks and seizures causing the family to be in and out of numerous hospitals and emergency rooms. The Yrkoski's are a low income family that has a farming operation as their main source of income. The family makes frequent trips Lincoln and Omaha from Fullerton (2-2.5 hour trip one way) for Amanda's chemo treatments.