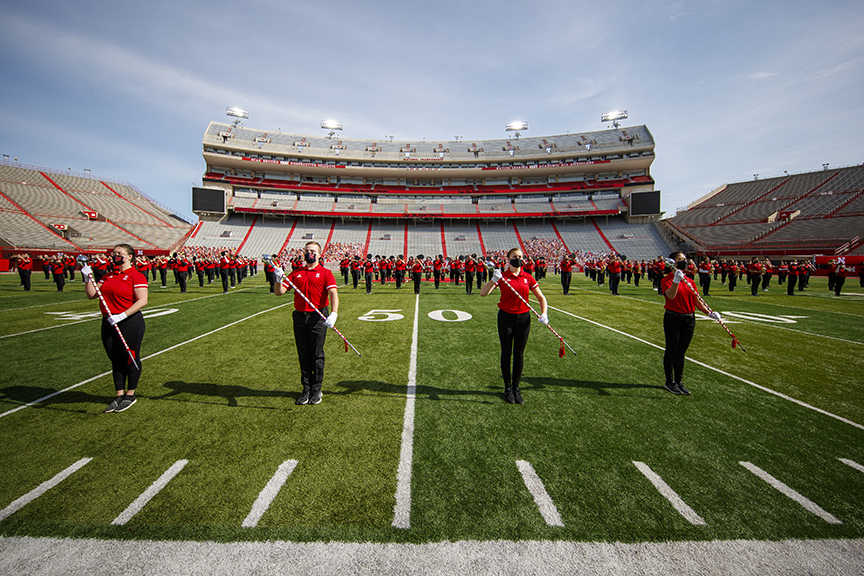 The Cornhusker Marching Band's annual exhibition concert returns Friday, Aug. 20 at 7 p.m. in Memorial Stadium. The concert is free and open to the public.

The annual concert will present highlights of what the Cornhusker Marching Band has been working on during their pre-season Band Camp, including the famous "drill down" and a preview of the first halftime show.

"I've had many people tell me they enjoy coming to the band exhibition because it helps them annually begin their school year," said Doug Bush, the assistant director of bands and assistant marching band director. "It's just a fun, free, family event where we gather in Memorial Stadium, hear and clap along with the fight songs and see what the Cornhusker Marching Band has been up to during band camp. It's a special event. Exhibitions this size don't happen everywhere."

Tony Falcone, associate director of bands and director of the Cornhusker Marching Band, said the band has its work cut out for them at band camp.

"Two entire classes of the band (this year's freshmen and sophomores) won't have performed in front of 90,000 in Memorial Stadium," he said. "That's going to be a steep learning curve, and we're going to have to rely heavily on our student leadership for guidance and institutional memory to get us back up to speed."

The exhibition concert gives band members a "practice run" before their first home game.

"Although they don't really look at it as practice. They take it seriously," Bush said. "It's a way for them to get the first-show jitters out before that first pre-game performance with 90,000 fans in the stands."

It's a welcome return to a more normal season for the Cornhusker Marching Band this season after the pandemic canceled the exhibition concert last season, and the band did not perform live at football games. In fact, no more than two-thirds of the band rehearsed in Cook Pavilion at one time last year.

"I think I speak for the entire band when I say that we can't wait to have a more normal band experience this fall. Last year looked much different than a normal year," said drum major Katherine Schmit, a junior music education major from Lincoln. "Rather than working on a different half-time show each week, we worked on one show for the whole season, which was recorded and shown during football games. Our rehearsal time was much more limited than usual, so I'm thankful we had the opportunity to meet at all."

Ian Maltas, a drum major and senior psychology and communications studies major from Lincoln, is also excited to have a more normal season this year.

"There's really nothing quite like hearing fight songs played by 300 people all at once," he said. "I am most looking forward to the energy that comes with the noise of Memorial Stadium on a game day. I don't think there's anything else like it."

Falcone is excited to get back out on the field in front of an audience again.

"I think it will be a jolt to everyone's system to feel that energy again, audience included," he said. "There will be a lot of goose bumps and tears. What I've missed the most is watching the students enjoy the experience and come together as a family through all the hard work. We did our best to preserve that last season, but it was a challenge."

Bush said last year provided the band with an interesting opportunity to focus on different things.

"Without having game performances to prepare for, we were able to have a much longer rehearsal arc to get our material learned," he said. "We also spent time focusing on the band family and making sure we were watching out for each other through the pandemic. It certainly felt strange sitting at home watching Husker football on television rather than being in attendance. It was a little frustrating, but we all understood why."

Maltas said the concert is the soonest way to get into the spirit of the Husker football season.

"There will be videos of the football team practicing online, but this is the first thing that the general public can go to in person to get a live part of that game day feeling," he said. "Hearing 'Hail Varsity' and 'No Place Like Nebraska" with 300 people playing together is a feeling that can't be replicated through livestreams or video, so I would say anyone who needs a little bit of game day before the first game should absolutely be there."

Falcone said the exhibition concert is an important part of the band's preparations for the season as they run through their game-day routine and perform in front of people in the stadium.

"Everyone should come to the Band Camp Exhibition to see the sights, hear the sounds and feel the feelings of Marching Band live and in person for the first time in what, for many, will be two years," he said. "It's also one of the very few things that we do just for ourselves, so it's a special night for the students and their friends and families, many of whom don't always get the opportunity to see us at a football game."

Fans attending the Cornhusker Marching Band exhibition concert should enter Memorial Stadium through Gate 3 (Southwest entrance) and Gate 11 (Northwest entrance). The gates will open at 6 p.m.

The Cornhusker Marching Band resides in the Glenn Korff School of Music.