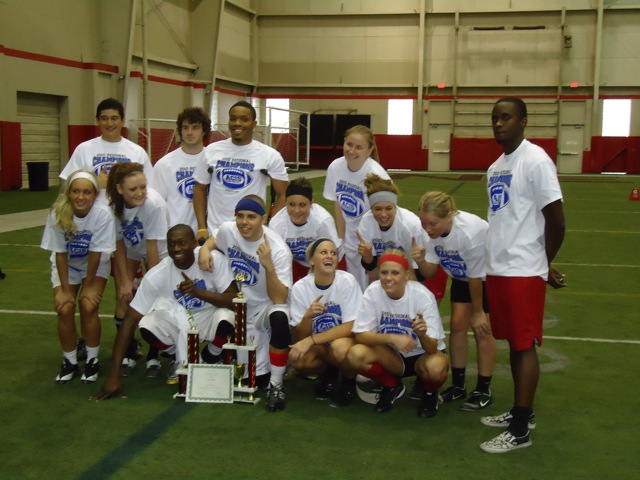 The University of Nebraska-Lincoln's co-rec team D-Unit and women's team Esther's Crew won their divisions in the American Collegiate Intramural Sports Regional Flag Football Tournament Nov. 21 at UNL's Cook Pavilion.

D-Unit won 19-9 against a team from the University of Northern Iowa to win its fourth consecutive regional crown. The team was also the national co-rec team runner-up in 2008 and 2009.

Esther's Crew won the women's title by beating the University of Wyoming Cowgirls 19-13 in the final. This is UNL's first women's regional champion title during the 18 years that the tournament has been held at UNL. As regional champions, each team receives a $1,000 travel stipend and free entry into the 32nd annual ACIS Flag Football National Championships Dec. 28-31 at the University of New Orleans.

UNL players also won individual awards at the regional. Kevin Dickens of Kansas City, Mo., was named the tournament's co-rec MVP. Alex Heiden of Aurora, Amber Engler of Beatrice and Katie DeMuth of Creighton were all named to the co-rec all-tournament team. Beth Neilsen of Wamego, Kan., earned the women's MVP award with Allison Mettler of Cedar Rapids, Iowa, and Nicole Huffman of Lincoln named to the all-tournament team. Esther's Crew also won the team sportsmanship award.

In addition to teams and player awards, three UNL students were named all-tournament sport officials and will be invited to officiate at the national tournament: Greg Boone of Elk Creek, Chris Morriss of Grand Island and Ryan Wingers of Lenexa, Kan.

Other D-Unit team members are: Anthony Baldwin of Aurora; Heather Davids of Malcolm; Jordan Funk of Roca; Wyatt Godfrey, Anna Schmidt and Jenna Schulz of Lincoln; Nicholas Gregath of Independence, Mo.; Benjamin Lester of Tecumseh; Randi Miller of Chambers; Heidi Reinhart of Albion; and Synneve Yoder of Murray.

Other Esther's Crew team members are: Rachel Cottier of Fremont; Monica Finke of Mead, Colo.; Haley Hatter, Bailey Pick, Emily Sirotkin and Ciera Tolbert of Omaha; Rebecca Jarratt of Sioux Falls, S.D.; Stacey Joy of Vermillion, S.D.; Michele Kalal of Elkhorn; Erica Lam of Olathe, Kan.; Rachel Plessing of Blair; Nadia Thomas of Dallas; and Sarah Tietz of Aberdeen, S.D.

The regional tournament was hosted by UNL Campus Recreation. For additional information about ACIS and the National Flag Football Championships, visit http://www.acisports.com.