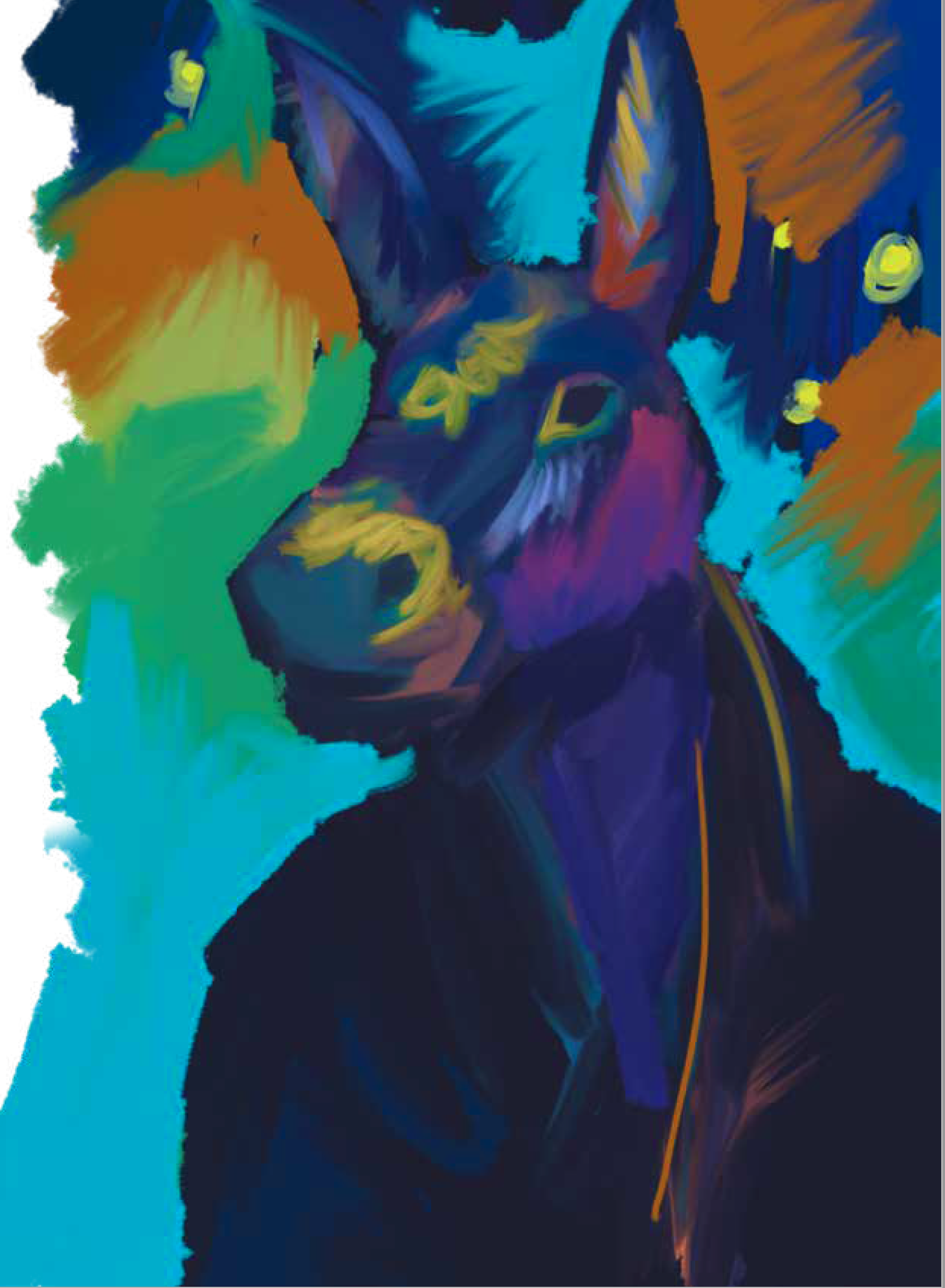 The Nebraska Repertory Theatre opens its 2021-2022 season with William Shakespeare's "A Midsummer Night's Dream."

Directed by Johnny Carson School of Theatre and Film Director and Nebraska Repertory Theatre Executive Director Christina Kirk, performances are Sept. 29-Oct. 10 in the Temple Building. It opens the Rep season, whose theme this season is "Journey."

"These characters go on a pretty dramatic journey as they figure out what it means to love one another and to be a community. They're sorting that out," Kirk said. "One of the things we've been exploring in the rehearsal process is just how big a journey it is from when we first encountered these humans in Athens, and how dramatically altered they are after their journey through the woods. The woods are magical and alter everyone's perspective. They come back very changed when we see them again in Athens in the final act."

One of Shakespeare's most popular works, "A Midsummer Night's Dream" portrays the events surrounding the marriage of the Theseus, the Duke of Athens, and Hippolyta. These events include the adventures of four young lovers and a group of six amateur actors, who are controlled and manipulated by the fairies who inhabit the forest in which most of the play is set.

In this Rep production, Kirk is setting the play in current times.

"I think this story really resonates with now," she said. "And one of the things we're exploring is the issue of climate change. One of the most famous moments in the play is Titania's speech to Oberon when she talks about how the seasons have altered. There are floods, frosts and all of this chaos in nature. Nature has been altered. And Titania tells Oberon that it's because of 'our dissension, our debate.' We can't figure out how to talk to each other and cooperate with each other and love each other, and therefore, we're destroying our own planet. That is a very powerful statement.

"That makes it sound like this is going to be a heavy show, but what we do is we take a really comical approach to that to say, 'Okay, what is it that we are doing that is getting in our own way as humans?'" Kirk said. "The character of Puck is the one that takes us on that journey; he helps us to laugh at ourselves and to see our own foibles and mishaps and to say, look, we need to forgive ourselves and each other. And the only way out of this is if we give."

The cast includes three guest artists: Assistant Professor of Practice in the Carson School Rafael Untalan as Theseus and Oberon; Renea Brown as Hippolyta and Titania; and Kent Joseph as Bottom and Egeus.

"We have these incredible students who are working alongside these professionals," Kirk said. "And that's one of the beauties of Nebraska Rep theatre. Here, you have this professional Equity theatre where our students get to work alongside these professionals. They're doing a marvelous job."

Mia Hilt, a theatre performance senior, is playing both Puck and Philostrate.

"Puck and Philostrate essentially serve the same function—to provide entertainment for the ruling force in their respective realms," Hilt said. "The difference between them is that Philostrate is mortal and serves the mortal Duke Theseus, and Puck is a magical sprite that serves Oberon, king of the fairies. Since the purpose of both characters is to provide joy and fun, I am having quite a joyful, fun time playing them. Rehearsal feels like recess, where I get to experiment and play, engaging with other characters and with the set to find the most exciting way to tell my part of the story."

"Mia is just a genius when it comes to movement," Kirk said of her role as Puck. "She and Oberon have an incredible relationship, and she has a marvelous connection with the space, too. The tree that Grace Trudeau has designed for us is climbable and jumpable and hangable and perchable, so Mia as Puck is exploring all these wonderful possibilities. The beautiful synergy between Oberon and Puck is one of the most magical parts of the show."

Shay Jowers, a theatre performance senior, is playing Helena.

"Helena is one of the four lovers in this show," she said. "She is in love with Demetrius, who she used to be with, but he is currently trying to marry her best friend Hermia. She is earnest in her love of Demetrius and believes, above all else, that he will come back to her. I am having so much fun playing Helena because she is unlike any other character I have really played before. She is beyond optimistic and fights for what she believes in with a tenacity that is truly rare."

Jowers said "A Midsummer Night's Dream" is a "wild ride of emotions."

"I really love how much this cast is willing to play in the world we are creating," she said. "The language that Shakespeare uses has so much depth, and you discover something new every time."

The set is designed by Grace Trudeau, who received her M.F.A. last spring and is now working for the Smithsonian National Museum of American History in Washington, D.C., as an assistant exhibit specialist of design.

She began working on "A Midsummer Night's Dream" in the winter of 2019 when the original show was set to open in October 2020.

"The show was intended to be my thesis production as a completion of my graduate studies requirements," Trudeau said. "Due to COVID-19, the show was postponed twice ultimately resulting in an opening date past my graduation date. Fortunately, my advisors and the school were flexible and able to work with me so I could finish my thesis and graduate prior to the live performance and provided me the opportunity to return post-graduation to finish the show I had begun almost two years prior. Needless to say, the show has been chaos, which is also a thematic quality of our production. The beauty in chaos—chaos being nature opposed to the order and structure of society."

Her scenic design was influenced by Lincoln's own space of controlling nature—Sunken Gardens.

"The gazebo for the show is representative of not only the Sunken Gardens local structure, but also a tribute to the Athenian order and architecture," Trudeau said. "The gazebo turns from Athens to the woods, where the tree of life is caged, just as Oberon figuratively cages Titania with the ransom of the changing child. The scenic design mimics Shakespeare's question posed throughout the play of is the control for protection or fear?"

The design incorporates the two worlds of the play.

"One of the things I said to Grace at the outset is we have to have two entirely different worlds, but I don't want a lot of time to transition from one world to the next," Kirk said. "She came up with a beautiful design, which is a simple revolve. In one world, we're in a gazebo with very traditional columns. And then with just a quick turn, all of a sudden, the space transforms into this glorious tree surrounded by a magical forest. She's working beautifully with lighting designer Abbey Smith. There's going to be all of these wonderful lighting elements within the tree. Together, they have created this glorious world for us in both settings."

The stage will also be surrounded by the lover's silhouettes in the sky and twinkling lights shining whimsically across the stage.

"As the power of the woods emerges, I encourage the audience to pay special attention to the tree as life breathes out of its bark, and it comes alive almost as its own character," Trudeau said. "The tree was inspired by large oak trees, whose branches stretch out long and gentle, as if extending a hand—the kind of trees you want to climb and become one with."

Kirk is making her Nebraska Rep directorial debut with this production of "A Midsummer Night's Dream."

"I'm so enjoying getting to work with our students in this capacity," she said. "Most of my interactions with students tend to be about being support or funding or having a problem or an issue. So it's wonderful every evening to go into a rehearsal space and just get to work with these marvelous students and watch them blossom and realize their full potential. I've just found it is a remarkable process."

Kirk is looking forward to welcoming live audiences back to the Nebraska Rep this season and says they will play an important role in "A Midsummer Night's Dream."

"One of the beauties about doing a Shakespeare play and a Shakespeare comedy is it's all about the audience," she said. "The audience is our partner throughout the entire production. We just can't wait for the audience to come because they're the last link in the puzzle. All of us get so excited about the fact that we're in a live theater space knowing that audience is going to come in and get to enjoy this wonderful production. And they've got to be ready because they're part of the show, and they're going to be engaged."

Hilt said it has been "amazing" to be back on stage to perform for live audiences.

"There is no other way to put it. Live theatre simply cannot be live theatre when we aren't doing it together and sharing it with one another in person," she said. "After what feels like an eternity of being online, this performance, in addition to other live performances I have been fortunate enough to do recently, has come as a true, deep sigh of relief."

Kirk said this production is sheer magic.

"There's a lot of magic in the show, and I think it's going to make you feel good," she said. "We're building community with this production, and every strand of it is about what it means to find community. Because we have been so isolated, and we've been so separated, I think coming back to the theatre with a show that's all about celebrating what it means to love, what it means to come to community and what it means to gather as a company and put on a play, offers this beautiful sense of camaraderie. We're in this together. And just knowing that's going to extend out to the audience has us really excited."

Hilt said, "We have lots of magic up our sleeves, ready to unleash for our audiences. Join us to experience it firsthand."

For showtimes and ticket information, visit https://nebraskarep.org.