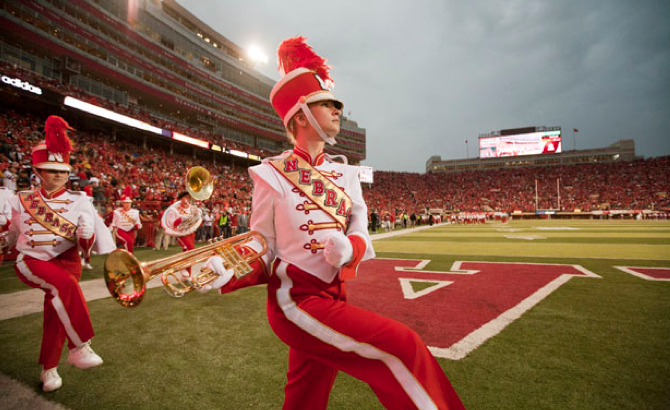 This year's University of Nebraska-Lincoln Homecoming week begins Sept. 24 and will carry the theme "Once Upon a Homecoming" throughout the week.

The events begin with a blood drive, 10 a.m. to 6 p.m. Sept. 24 at Nebraska East Union. A Monday Night Live show is tonight with student teams dancing, acting and singing and showing school spirit. Performances are at the Coliseum beginning 8 p.m.

Blood drives continue at City Campus, Nebraska Union, Sept. 25-27, 11 a.m.-6 p.m.

A Huskers Against Hunger Million Meal Marathon will take place Sept. 25-26 at Pershing Center, 5 p.m. to midnight. Elections of UNL royalty will take place on students' MyRed portal on Sept. 27 and a free concert by Gloriana with special guest Emmett Bower Band is 8 p.m. Sept. 27 at East Campus Mall. The concert is sponsored by the College of Agricultural Sciences and Natural Resources, ASUN, University Program Council, Student Involvement, Campus Rec and the Vice Chancellor for Student Affairs.

On Friday, Sept. 28, student lawn displays will be completed and judged, and the annual Homecoming Parade is 6-7 p.m., starting at the corner of 16th and Vine streets. Bus routes on and near the parade route will begin closing at 4 p.m. The parade is free and open to the public. A pep rally will follow the parade from 7 to 8:30 p.m. at the Nebraska Union Plaza. The Scarlet Guard's Homecoming Jester competition is part of the pep rally.

In addition to floats built by registered student organizations, participants in the parade include the Cornhusker Marching Band, the Scarlets, UNL cheerleaders and student walking groups. The grand marshal is Jordan Burroughs. Judging of parade entries will occur at the intersection of 16th and S streets.

The Nebraska Alumni Association will host a Football Friday from 4:30 to 6 p.m. at Champions Club, 707 Stadium Drive. Hosted by Husker Sports Network's Greg Sharpe, special guests are Tommie Frazier and Jay Foreman. Parade-watchers may view from the Holling Garden at the Alumni Association's Wick Center.

Sponsors of Homecoming include the UNL Athletic Department, Pepsi, the Office of the Chancellor, Association of Students at the University of Nebraska, Nebraska Alumni Association, Interfraternity Council, Panhellenic, University Program Council, Residence Hall Association, Campus Recreation, Scarlet Guard and KFRX Radio.