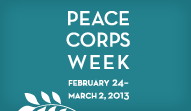 Life is calling… how far will you go?

Ever wonder how you can get paid to travel the world, visit exotic destinations, learn new languages, and push your limits, all while making a difference?

The Lincoln-Omaha Returned Peace Corps community is here to show you how. Join us for a reception. There will be food, music, and interesting people with fascinating stories to tell. Stop by, enjoy a drink, and maybe find out how the Peace Corps can help you achieve your life's goals. So what are you waiting for? Answer the call…

Peace Corps Week celebrates how Peace Corps volunteers make a difference in host countries around the world and in the U.S. It commemorates the date President John F. Kennedy signed the executive order to establish the Peace Corps—March 1, 1961.

The UNL Education Abroad office is hosting an open house event from 4 to 6 p.m. Feb. 26 at 420 University Terrace.
More details at: http://go.unl.edu/phs