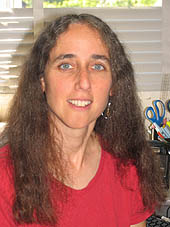 "Toward a Mechanistic Understanding of the Roles of Pentatricopeptide Repeat Proteins in Organellar Gene Expression," will be presented by Alice Barkan of the University of Oregon at 4 p.m., March 19 in E103 Beadle Center. The free, public seminar will be preceded by a reception at 3:30 p.m.

The pentatricopeptide repeat (PPR) protein family is a remarkable family of RNA binding proteins that holds special promise for the rational design of specified RNA binding properties. PPR proteins harbor tandem degenerate helical repeats that form a surface for binding single-stranded RNA. Most PPR proteins localize to mitochondria or chloroplasts, where they influence the editing, splicing, stability, translation or processing of specific RNAs. They bind RNA via a modular 1-repeat/1-nt mechanism in which base specificity is determined largely by the identity of two amino acids in each repeat (the "PPR code").

PPR tracts have the potential to form RNA binding surfaces of unprecedented length, and the ability of long PPR tracts to sequester long RNA segments can account for many of the effects of PPR proteins on gene expression. These features suggest that the PPR scaffold can be exploited to modulate RNA function both within and outside of their natural organellar context. I will discuss the challenges ahead, as we seek to develop this understanding to the point that we can reliably predict the repertoire of binding sites for natural PPR proteins, and design PPR tracts with desired RNA sequence specificities and affinities.

The Beadle Center is located at 1901 Vine Street. The complete schedule of seminars may be found at http://biotech.unl.edu/.
More details at: http://go.unl.edu/efix