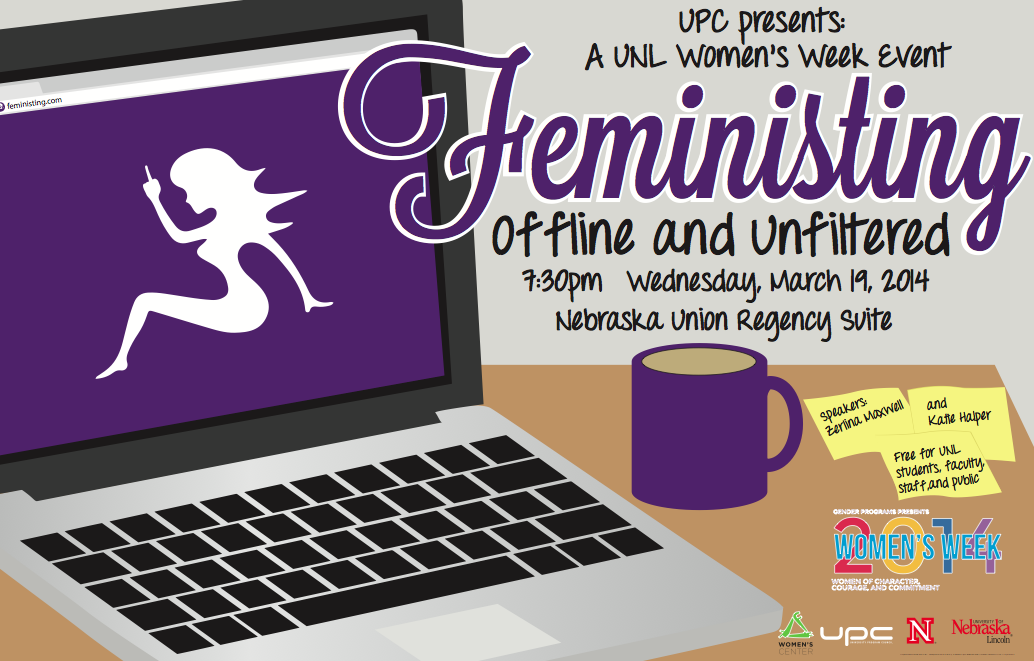 The University Program Council (UPC) will present a UNL Women's Week Event: "Feministing: Offline and Unfiltered" at 7:30 p.m. March 19 in the Nebraska Union Regency Suite.

Two editors from the feminist blog (http://www.feministing.com), Katie Halper and Zerlina Maxwell, will be joined by a student panelist for a conversation you won't want to miss! This event will be free for all UNL students, faculty, staff, and the public.

Feministing.com is a blog that was created in 2004 to make feminism more accessible to young people, and to allow feminists and their allies to have a place to connect and encourage activism. Feministing Editor Katie Halper is a comic, writer, blogger, satirist, and filmmaker whose writing has appeared in The New York Times, Comedy Central, and the Huffington Post. Editor Zerlina Maxwell is a political analyst and contributing writer whose work has appeared in The Washington Post, CNN.com, and BET.com. The two editors will be sharing their experiences as writers and commentators in this national conversation, and will be joined by Ruth Boettner, a UNL student panelist who will be bringing a local perspective to the table as a contributing writer for the Daily Nebraskan. The event will also feature an interactive Q&A and discussion that will focus on the meaning and purpose of feminism, how the movement has transitioned over the last decade, and the major issues that will impact its future.

UNL Women's Week is an annual series of campus and community events coordinated by the Women's Center. For a full list of 2014 events go to http://involved.unl.edu/womens-week. The University Program Council (UPC) is a student organization that provides diverse, educational and entertaining programs to enhance the UNL community. UPC acts as the executive body responsible for the implementation of programs and activities funded by University Programs and Facilities Fees (UPFF). For more than 75 years, UPC has been providing entertainment for UNL students in the form of films, speakers, concerts and more! For more information, please visit: http://involved.unl.edu/upc or follow UPC Nebraska on Facebook and Twitter.
More details at: http://go.unl.edu/4svx