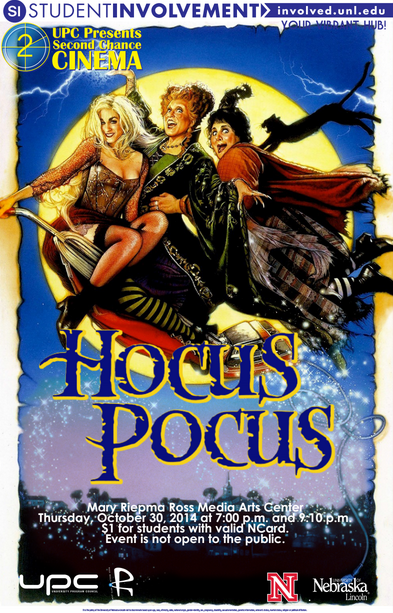 The University Program Council (UPC Nebraska) presents, "Hocus Pocus" on Thursday, October 30, 2014 at the Mary Riepma Ross Media Arts Center (The Ross) with showings at 7:00pm and 9:10pm. This film screening will be $1 for UNL Students with a valid NCard. Event is not open to the public.

"Hocus Pocus" is a 1993 Halloween-themed fantasy/comedy film that was released by Disney and directed by Kenny Ortega. The film tells the story of a Halloween-hating teenager named Max, who inadvertently resurrects three witches from their temporary death. Max must risk his life to protect his sister and defeat the witches with the help of his classmate crush, a friendly zombie, and an immortal black cat.

The University Program Council (UPC Nebraska) is a student organization that provides diverse, educational and entertaining programs to enhance the UNL community. UPC Nebraska acts as the executive body responsible for the implementation of programs and activities funded by University Programs and Facilities Fees (UPFF). For more than 75 years, UPC Nebraska has been providing entertainment for UNL students in the form of films, speakers, concerts and more! For more information, please visit: http://involved.unl.edu/upc or follow UPC Nebraska on Facebook and Twitter.
More details at: http://go.unl.edu/8xjk