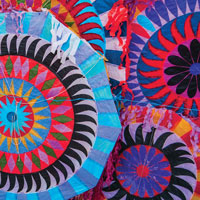 Inspired by the music and kite festivals of Guatemala, Sheldon Museum of Art's eighth annual Día de los Muertos family day features the marimba ensemble of Comunidad Maya Pixan Ixim.

The free public event is from noon to 4 p.m. on Sunday, Nov. 2 at the museum, located at 12th and R streets on the University of Nebraska-Lincoln campus.

In addition to family-friendly art-making activities, traditional foods, the event includes performances by Heritage Language students from the Lincoln Public Schools and folkloric dance by the troupes Fiesta Mexicana of the Heartland and Orgullo Latino.

Sheldon Museum of Art houses a permanent collection of more than 12,000 objects focusing on American art. Sheldon is open free to the public during regular hours: Tuesday, 10 a.m. to 8 p.m.; Wednesday through Saturday, 10 a.m. to 5 p.m.; Sunday, noon to 5 p.m. The museum is closed on Monday.
More details at: http://www.sheldonartmuseum.org