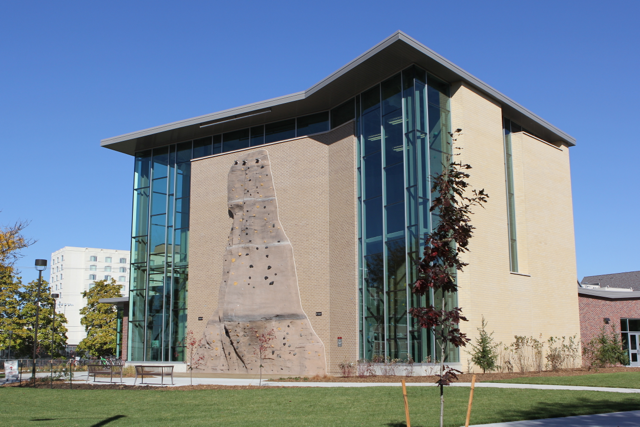 UNL Campus Recreation officially dedicates the Outdoor Adventures Center during a 4:30 p.m. ceremony Oct. 29. Remarks will be given by UNL chancellor Harvey Perlman; Juan Franco, vice chancellor for students affairs; Stan Campbell, director of campus recreation; and past and present student leaders.

Visitors can come from 4 to 6 p.m. for tours and refreshments. All UNL students, faculty, staff and general public are invited. Furthermore, attendees can be guided across the street for a glimpse of the City Rec Center's recently renovated and reopened strength training & conditioning room.

Opened in May, the $5.28 million Outdoor Adventures Center is the on-campus home for outdoor academic & non-credit classes, the adventure trips program, challenge course, the UNL bike shop & gear rentals, and Nebraska's largest climbing & bouldering gym, covering 2,383 sq ft. and 30 rope lines. Unique features include bike lockers, showers, and locker rooms for bike commuters and an external bouldering wall stylized after portions of Chimney Rock - paying tribute to the state's geological and pioneering heritage.

The outdoor center is as a project of the 'YES 2 Better Rec Centers' referendum approved by UNL students in October 2010, which appropriated student fees to improve the quality of the University's campus recreation facilities. Additional projects of the referendum include renovations to the City Rec Center's strength and cardio areas (opened 2011 and 2014) and construction of the new East Rec Center (opening in summer 2015).