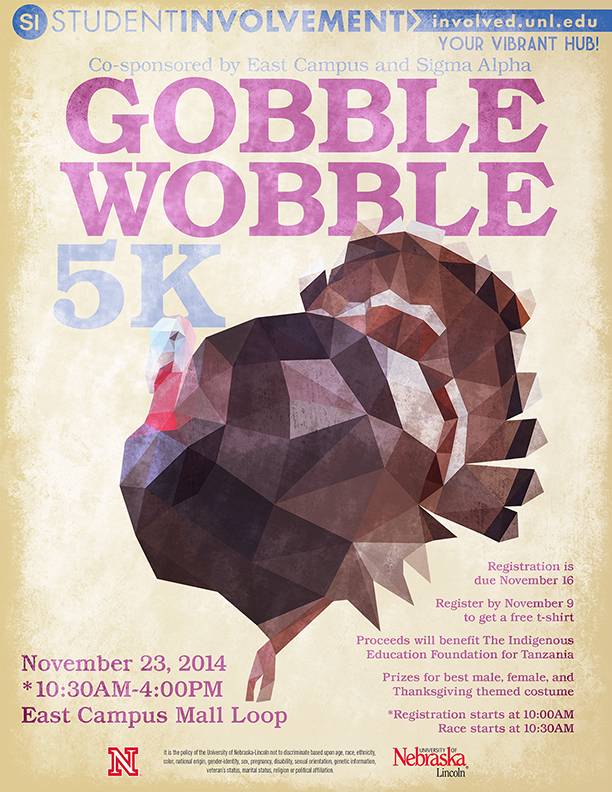 East Campus Student Involvement and Sigma Alpha are co-sponsoring the first annual Gobble Wobble 5k benefiting IEFT. The run is November 23rd starting at 10 am. The race will be around the east campus loop. Runners will check in, in front of the east campus union.

The Indigenous Education Foundation of Tanzania is a nonprofit that envisions a world in which local communities are empowered to create a safe and healthy living environment, while preserving their own cultural values and practices. Responding to a lack of affordable secondary education in Tanzania, IEFT works with local leaders and community members to build and operate secondary schools that provide high-quality, free, holistic education to families who would otherwise be unable to afford it. Orkeeswa School, the secondary school funded and operated by IEFT, proactively fosters a learning environment that teaches students to think creatively, inspire and motivate community members, and apply actionable solutions to complex problems. IEFT creates opportunities for Orkeeswa students to become the best possible voices for change in their communities in Tanzania by nurturing the students' overall development while maintaining the highest academic standards. To learn more about IEFT and their mission please visit ieftz.org

Prizes will be awarded to:
1) Best Thanksgiving costume
2) Fastest male participant
3) Fastest female participant

Dates:
November 9th: The last day to register and get a free t-shirt
November 16th: The last day to register online
Note: There will be open registration the day of the race at the check-in table.
More details at: http://ieftz.org/