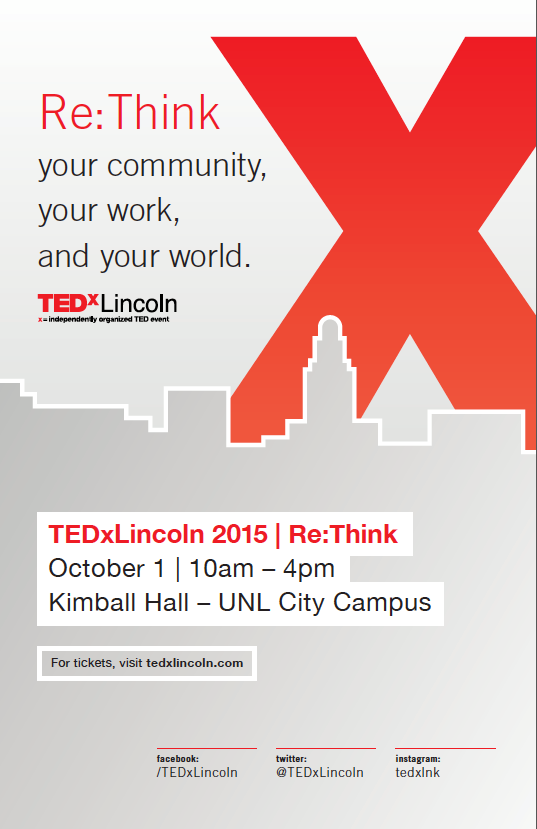 Thank you for your interest in volunteering in the social media newsroom during the TEDxLincoln event on October 1! You'll get the chance to practice reporting methods that journalists in professional newsrooms use every day. TEDx is an event that strives to re-create the unique experience found at TED, where the world's leading thinkers and doers congregate to share what they are most passionate about. At its core, the fundamental goal of TED and TEDxLincoln is to foster and spread great ideas and create community where civil discussions can occur.

We aim to provide a platform where youth and adults who are thinkers, visionaries and learners will be inspired and have the opportunity to inspire others.

The format will be a suite of short, carefully prepared talks, demonstrations and performances on a wide range of subjects. The halls will be filled with interactive activities that allow the audience participants to more fully engage with the subject matter of the talks, and areas to congregate and interact will be used to provoke conversations that matter.

Live performances combining dance, music, art and social media intertwining with prepared talks will make this day a feast for the mind and the senses.

Our social media newsroom will allow us to interact on an almost instantaneous basis with our audience. We will have opportunities for youth to answer questions on their own devices, which will be part of the conversation of the day, using instantaneous polling software and Twitter feeds. We will use event reporters to solicit information as well as document the day.

We will offer four types of jobs.
1. Reporter, using Twitter:
In this job, the student journalist will watch the TEDxLincoln speeches and performances and tweet live from the event. These tweets will serve as a chronological accounting of what the speakers said, kind of like a reporter's notes. Except that instead of writing a story and printing a newspaper, we will publish this information in real time via Twitter.
Required technology: Reporter needs to bring his/her own smart phone or iPad with Twitter app and must have at least a little previous experience using Twitter.

2. Photographer
In this job, the student journalist will shoot photos during TEDxLincoln, including the speeches, participants and speakers. These images will be published via Facebook, Twitter, Instagram and Flickr.
Required technology: Photographer needs to bring his or her own smart phone or iPad. If using a digital camera, the photographer must bring necessary equipment to transmit these photos digitally.

3. Videographer
In this job, the student journalist will roam the halls, green room and backstage at the TEDxLincoln event capturing participants' and speakers' thoughts and ideas. The videos will be shared on Instagram and Facebook.
Required technology: Reporter needs to bring his/her own video-capable smart phone or iPad and must know how to shoot a video and email it somewhere.

4. Helper in the social media newsroom
In this job, the volunteer will help do whatever needs to be done in the social media newsroom. This could include helping volunteers with technology, posting information to the TEDxLincoln web site, serving as a runner, and many other important tasks.
Required technology: None!
More details at: https://podio.com/webforms/13189148/897197