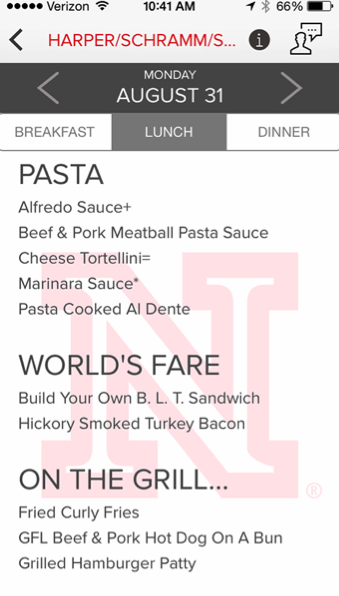 University Dining Services has launched an [app](go.unl.edu/unlmenuapp) to help guide student cravings — be they for a favorite food or simply a need to know what is on the menu in University of Nebraska–Lincoln dining halls.

The UNL Dining Services app, available for free in both the iTunes (http://go.unl.edu/omrs) and Google (http://go.unl.edu/iw7f) stores, includes information about what specific foods are being served in University Housing's dining centers, grab-n-go locations and the late night dining service. The app also includes dining hall hours and the opportunity to provide feedback.

"For the initial launch of the app, we went with providing the basic information that students want and need to know," said Shari Rosso, University Housing's assistant director for marketing and communications. "We know that the menus are our number one thing accessed online by students. So, we created this app to make that information available right at their fingertips."

Rosso said the app will continue to evolve. Planned upgrades include allowing users to select favorite foods and be notified when they are served; providing nutritional information; and adding social media options.

"We also plan to use student feedback to guide updates to the app," Rosso said.

For more information about the UNL Dining Services app, go to http://go.unl.edu/unlmenuapp.
More details at: http://go.unl.edu/unlmenuapp